Not gonna lie: it's tough out there for SEO pros and content marketers these days.
Winning a top SERP position remains a challenge as more and more high-quality content is published to the web every second.
BUT even though competition is stiff, it's not totally impossible to rank on page one of Google in a highly saturated niche.
In fact, we've had some wild successes doing exactly that over the last few years at Ignite Marketing.
Today, we're giving you a sneak peek into one of those success stories…the story about how we ranked 3,748 keywords on the first page of Google search results for one of our amazing chiropractic clients.
And that's just the tip of the iceberg when it comes to what we've achieved for them.
Other wins include:
Ranking 1,335 keywords in the top three spots of Google search results
Generating 8,160 leads via Facebook Ad campaigns
Reaching 5,000 YouTube subscribers and 461,239 video views
This translated to an incredible 336 new patients in total, which brought in $2,556,344 in additional revenue!
Nope. It wasn't luck, random chance, or the result of top-secret tactics and techniques only the SEO Illuminati knows.
Instead, it was a simple, tactical approach that relied on sound strategies and consistency.
Although every website is different and you'll need to figure out your specific needs, the strategy and process we followed to crush it for this client is something everyone can implement.
Without further ado, let's dive in!
The Client
This client is unique in that they operate two brands in one practice: Scoliosis Reduction Center and Celebration Family Chiropractic.

Scoliosis Reduction Center is an alternative care medical facility that offers specialized chiropractic-centered treatment to individuals with scoliosis. The practice's specialized, patient-centric approach uses a revolutionary methodology to correct and improve scoliosis without surgery. Their spinal rehabilitation protocol boasts an impressive efficacy rate, with 95% of patients reporting positive outcomes after completing a customized treatment program.
The Celebration Family Chiropractic side of their clinic aims to help patients find pain relief and optimal wellness naturally through MaxLiving's 5 Essentials®. This includes core chiropractic, nutrition, mindset, oxygen and exercise, and the minimization of toxins.
Although the practice is based near the magical theme parks of Disney World in Kissimmee, FL, they serve a global patient base. (Seriously, people fly in from all over the world to get treatment.)
The Challenge: Lack of Online Visibility and Lead Generation
The clinic, founded and headed by Dr. Tony Nalda, operates in a highly competitive chiropractic market. Although Dr. Nalda is an expert in his field, and his team is on the cutting edge of new non-invasive scoliosis treatment, the practice was struggling to stand out from run-of-the-mill chiropractic offices while simultaneously distinguishing itself as an alternative solution to conventional treatment options such as surgery and traditional bracing.
Dr. Nalda wanted to rise above the online noise and generate leads through Facebook advertising, but he also needed help establishing a smart SEO and content marketing strategy that would improve his website rankings, educate his target audience, lend credibility to his brand, and help him carve a niche in a saturated marketplace.
The goals of this project were threefold:
Strategize and produce the framework for digital lead generation funnels tailored to the practice.
Cultivate a website that would organically climb Google rankings while effectively serving as a lead magnet and conversion tool designed to attract and nurture the practice's ideal patients.
Build Dr. Nalda's credibility as an expert in the field of chiropractic-based scoliosis treatments.
The ultimate goal? Create a strategy that would crush the client's competition online. We're a diverse team with distinct skillsets, so we knew we could deliver. This was a major selling point that got Dr. Nalda excited to work with us.
The Solution
Working alongside Dr. Nalda and his team, we developed and executed a comprehensive plan spanning several marketing disciplines.
SEO
Our initial SEO approach had two distinct phases:
Phase I focused on On-Site Optimization and SEO-Focused Content Marketing.
Phase II focused on moving the website to a better platform and increasing Content Velocity for maximum gains.
SEO Phase I: On-Site Optimization
Much of our strategy involved correcting technical issues hindering speed and on-site user experience, responding to Google algorithm author updates, implementing SEO best practices to improve the site's KPIs, and maintaining the general health of the website.
Our process was as follows:
Assess On-Site Fixes
Besides having minimal content on their site, our client hadn't set up a blog on their content management system yet. We assessed each page, determined what the page should be ranking for, and developed a plan of action for moving forward.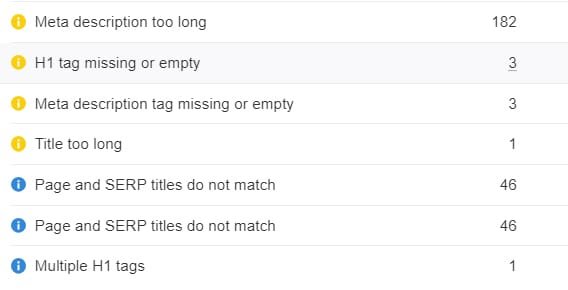 Implement On-Site Fixes
Based on our findings, we made necessary changes to key ranking factors for each page. This included updates to each page's title, meta description, h1 tags, image alt text, and more. We also cleaned up images, reducing their size where necessary. An image only needs to be the biggest size it will be on any device—anything bigger wastes website load time. We further optimized all images by compressing them to ensure they load faster.
Review On-Site Fixes
It's critical to review your on-site changes to ensure that: 1) they align with your plan for targeting specific keywords, and 2) ensure you didn't introduce any errors. Many site owners overlook this step, which can lead to months passing by before these errors are corrected.
SEO Phase I: SEO-Focused Content Marketing
We understood that content creation and authority-building would be critical to this client's success. This meant not only creating new content but also fixing existing issues and taking advantage of missed opportunities.
This is how we did it…
Build Authority
Once we had handled the basics of on-site SEO, we pivoted to building authority for our client and his brands. The medical niche is incredibly tough, with WebMD, colleges, and top national medical brands being among the crème de le crème of competitors.
Fortunately, our client already had authority—just not in the eyes of Google and its algorithms since certain authority signals weren't tied to him directly. Creating this connection needed to be our area of focus if we were to compete against the likes of WebMD and Shriners Hospital for key medical terms related to our client's niche.
We began by helping in the creation and publication of a book called Scoliosis Hope: How New Approaches to Treatment Are Transforming Lives. It was made available in both print and ebook format and then promoted on a variety of platforms, including social media. Since the book tied directly to Dr. Nalda's name, it allowed us to generate exposure from online booksellers and build his authority across the web as a chiropractic and scoliosis expert. Although this project took several months to complete, it paid off with a phenomenal boost in authority.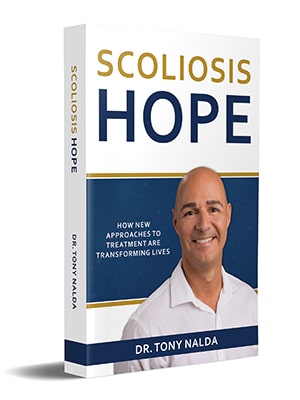 Next, we had to establish Dr. Nalda as the author of the content on the practice's website. We also took the opportunity to use the author's bio section to link his other assets across the web, including social media sites such as Facebook, Twitter, LinkedIn, and more.
Another facet of our strategy involved creating and promoting two premium content assets, including Demystifying Scoliosis and How to Treat Scoliosis. These guides further helped in establishing Dr. Nalda's expertise and linked to him as the author, effectively building brand awareness while signaling to Google's algorithm his authority on the subject matter.
We leveraged these guides as top-of-funnel lead magnets on the practice's website and in Facebook Ad campaigns. We also produced a scoliosis-related magazine called Ahead of the Curve that is specifically geared towards teens (a key demographic for the practice). We handled every aspect of distribution and promotion for each asset we created.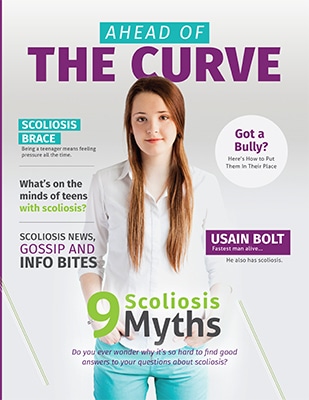 Another previously missed opportunity was the fact that Dr. Nalda had several industry-specific, internationally-recognized certifications. Linking these certifications to him was an additional key component of the authority-building process.
Lastly, we updated Google's Knowledge Graph with Dr. Nalda's social accounts, websites, certifications, books, and more to give Google and its algorithm a clear picture of his expertise.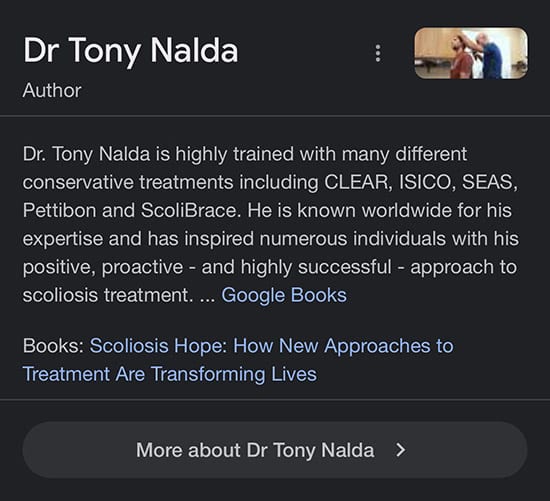 Building authority was easily one of the most time-consuming and cost-intensive pieces of the puzzle. However, it helped the rest of our efforts pay off when competing in search engines against brands that have existed for the lifetime of the web, or in the case of universities and their medical and research hospitals, half a century or more.
Assess Content Gap vs. the Competition
Because our client severally lacked targeted content when we began this project, identifying content gaps and keywords competitors were ranking for that our client didn't have content about was super easy.
First, we identified competitors.
Although sites like WebMD and Shriners Hospital are ranking for keywords our client should be ranking for, these sites are broad in topic. Rather than focusing on scoliosis, they provide general medical information. So, we began searching for direct competitors focused on scoliosis topics and made a list of these sites.
Using Ahrefs, we then identified top content in the scoliosis niche that these sites were ranking for and added these keywords to our content plan. Since building authority would take a while, we started with the lowest competition keywords first to give us the best chance of ranking soonest. As this was a long-term plan, we knew we would tackle tougher keywords in the niche eventually.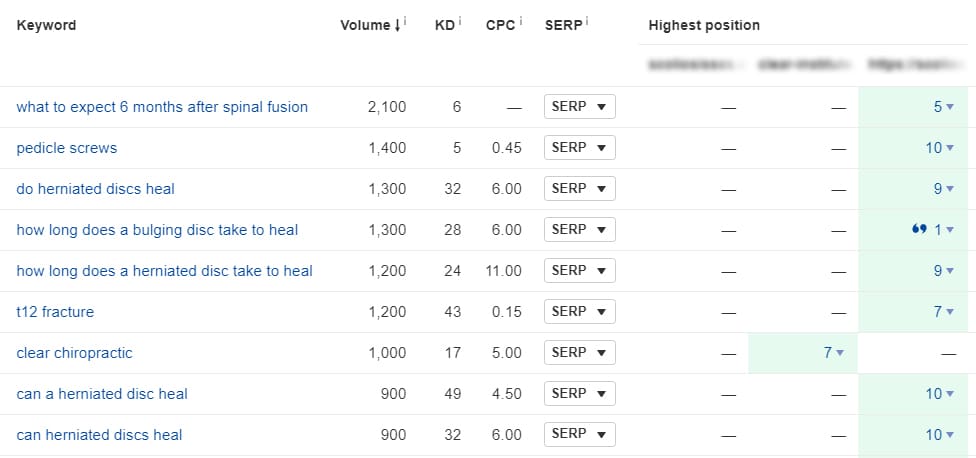 Develop Content Creation Plan
After identifying the first batch of keywords we wanted to target, we developed a content calendar, identified the best content outline for each keyword, and established a regular publishing schedule.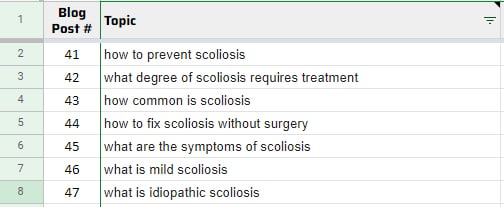 SEO Phase II: Coordinate Move to WordPress
Our client was using Squarespace for their website when we first met them, which presented some unique challenges. While we were able to work through the issues and get the ball rolling on other fronts, we knew they would need to move to a more robust platform like WordPress if they wanted to increase content volume and velocity (which they did based on our suggestion). This move would also help with SEO, content publishing speed, and more.
Moving platforms required a massive overhaul, so we did it while the site still had little traffic. Creating a new site design, setting up WordPress, and the port over requires a lot of organization, attention to detail, and backend testing. Although there are other content management systems available, WordPress remains one of the best. In this case, it would allow us to attain the speed of publishing and control of the website design we desired.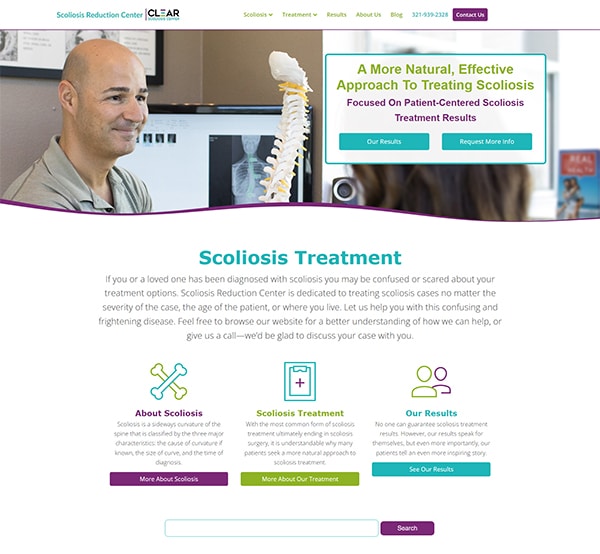 SEO Phase II: Increase Content Velocity and Coverage
After moving to WordPress, we felt we had a solid enough base to ramp up content creation.
While we had spent the first year creating a baseline of content that was published to the practice's blog and promoted through its social media channels, we spent the second year blogging with a major push toward focused keywords that would help the practice's website rank for specific terms over time. We set a publishing schedule that allowed us to consistently publish new posts three times a week. The consistency combined with such volume is what we call "content velocity." This sends constant signals to Google that you have fresh content, which results in better rankings.
We also wanted to move toward a phase of full coverage. While we started with the lowest competition keywords, we felt that we could finally tackle all of the scoliosis keywords (no matter how competitive). This push for full coverage on the topic allowed us to publish at a high velocity and cover all angles of the topic for our client.
The Results
SEO and content marketing efforts resulted in 3,748 organic keywords ranking on page one of Google alone. Of those, 1,335 keywords rank in the top three spots. In total, Scoliosis Reduction Center now ranks in the top 100 spots for 18,983 search terms.
Perhaps more impressively, traffic went from 213 organic sessions in May 2019 to 119,221 organic sessions in July 2022. That's a 55872.3% increase in organic traffic!

Conversion Optimization
While increasing traffic can result in gratifying graphs forever growing to the right, it means sweet nothing if people aren't converting into leads. That's why, as the traffic volume grew on our client's website, our main focus turned to conversions.
This was our process:
Track Conversions
You need to track events if you want to measure improvements and growth. So, we set up goals in Google Analytics for key items our client wanted to track. The main conversion event is Contact Form Completions. Once we set up and tested the conversions, we began to track data for a few months to establish a baseline of what to expect.
Improve Access to Conversion Page
One of the key marketing principles we've learned is that people need to be told what to do—no matter how simple the task. Whether on a website or in a direct ad campaign on YouTube or Facebook, making the next step clear is important.
To ensure website visitors would know how to contact our client to take the next steps, we made sure the contact form was accessible in the sidebar and the header of the website on any device.
Improving the Conversion Page Experience
Once you see a traffic spike on your conversion page, you need to work on optimizing it. We made several on-page tweaks, which included improving spacing so that visitors could better see the conversion form. We also made subtle changes to boost visual appeal and added a contrasting color to the submission button so that it stands out and triggers more conversions.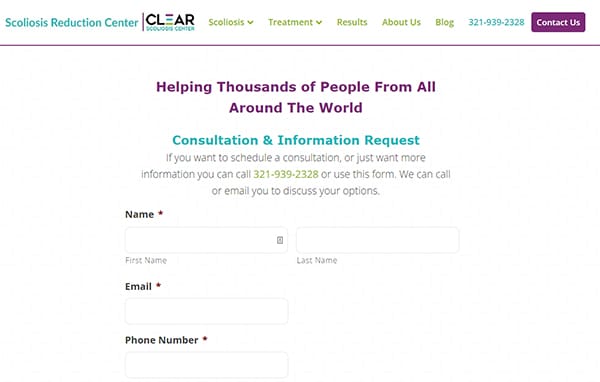 But then we ran into a problem: too many conversions.
Are Too Many Conversions a Bad Thing?
While it's a good problem to have, too many conversions can stress internal systems for your client, which is the issue we had. Once our SEO efforts began kicking in, it created a situation where the client was complaining about receiving too many leads. And because of the lead volume, many unqualified leads were making it through.
One tactic we tried for increasing conversions was a chat plugin that popped up on the bottom of the screen, allowing visitors direct and almost immediate access to the team at Scoliosis Reduction Center.
Although this increased the number of overall conversions, the ease of access ended up bringing in very low-quality leads. After conversations with the client, we determined the chat plugin was not the right fit for this industry and removed it from the site as a lead-generation option.
Because of the complex nature of scoliosis and the long lead-to-patient time, the chat plugin attracted people who would never set foot in the office but rather wanted quick answers to their questions—often outside of the scope of the treatment the client provides.
Optimize Conversion Quality
The best way to reduce lead volume is to add more friction (i.e., add more steps for the lead to take). However, just adding friction for the sake of friction will only make things worse. You have to add the right kind of friction to reduce the number of leads.
The good news is that there's a side benefit to this approach: it improves the quality of the lead. Because people have to take more steps, only those who are truly motivated will complete the process.
One of the best ways to add more friction and improve lead quality is to coordinate with the client to find out common reasons people do not become patients after filling out the form.
In our case, a common reason was that international leads could not travel to Florida, USA, which is where our client is based. Some leads were under the impression they could be treated via virtual calls. Unfortunately, our client is only licensed to practice medicine in Florida.
By making it clear on the form for people who indicated they lived out of state that travel to Florida is necessary for treatment, we were able to improve the quality of leads significantly.
A second area our client highlighted needed work was the prioritization of leads. People who just wanted more info were a lower priority than people who were interested in treatment. Allowing the lead to self-select into one of these categories helped our client address leads with proper prioritization. In turn, they were able to handle more leads effectively and efficiently.
The Results
Comparing June of 2021 with June of 2022, we saw an increase of 23,000 users year over year, which was a 28.42% increase in traffic. But, with only a 28% increase in traffic, we saw a 71.84% increase in the number of lead conversions year on year. And around 33% of those leads converted into paying patients.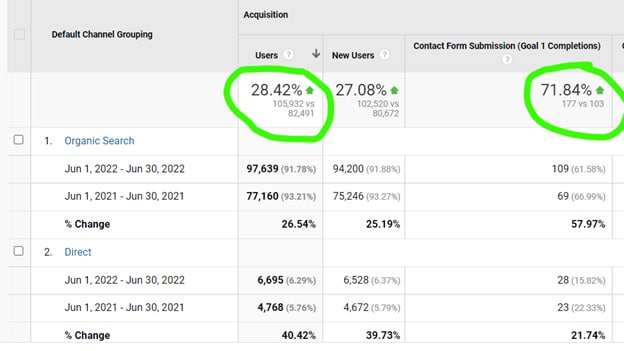 Plus, the increased friction produced better, higher-quality leads with more fields of lead information being delivered to the client.
However, this approach isn't always the best for every industry. Take e-commerce, for example. The goal is to sell as many of the item as you have inventory, so maximizing leads and reducing friction is the right approach.
On the other hand, if you're doing e-commerce for a high-ticket luxury item, adding friction may help you reduce the number of tire-kickers, discount-seekers, and people who aren't the right fit for your offer.
In the case of our client, Dr. Nalda can only perform treatment in a specific location, and his team can only handle a certain number of leads. With these goals and limitations in mind, we created the best plan for the practice's industry.
Traffic is just one piece of the puzzle, though.
Getting more leads and getting better leads through conversion optimization is the key metric—one that you control.
Traffic is largely out of your control, at least in the short term. Google algorithm updates, natural ebbs and flows, seasonality of businesses, and more will affect traffic. What you can control is how good your website is at sending people to your preferred conversion events, how well those conversion event pages convert, and the quality of the leads being delivered.
Link Building and Guest Posting
Frankly, we haven't spent much time building links. While they're an important part of SEO, if done improperly, Google can penalize you—something that can take many months to rectify, if at all. That said, by creating high-quality, insightful content that's published on a consistent schedule, we've been able to gain almost 4,000 backlinks naturally.
We did reach out to gain links from places already mentioning our client, as well as partners of our client, but their content was already discussing Dr. Nalda and his practice brands naturally.
So, with thousands of natural backlinks in our arsenal, the next phase of our SEO plan involves outreach for guest post opportunities where our client can share his expertise with a new audience while generating backlinks to the practice's website.
Because this niche requires a lot of authority, the search for sites to guest post on means we need to look at the authority of the target sites. Are they credible? Are they posting other authoritative content? Are they even open to guest posts on their sites?
We will start by compiling a list of possible candidates and reach out to them via the contact methods provided. If they have any special criteria for guest posts, we will ensure our client meets (or can meet) those requirements. We will also take note of anyone who responds to us so that we can begin to build a relationship bank. That way, future attempts to reach out to these site owners will be from a position of recognition, not just a blind ask like it was initially.
Additional Authority-Building Properties
The next step for this client is to build out additional web properties to further amplify his authority online. We floated many ideas, but the plan we landed on involves extending his own personal brand.
While we've built individual authority for our client to help his business brands grow, we want to focus on building out his personal brand through the website and the YouTube channel attached to the business brand.
This additional online property will be tied to his own name. The site is already in existence and serves as a place to promote his books and house his podcast. Beyond that, we haven't fully built it out yet.
To start, we'll generate a keyword analysis plan and a Content Velocity plan. We'll do so with several years of experience in this niche, so we will be able to focus on the keywords and terms that we know will provide the best results.
We also have ideas and plans for other brands that our client can leverage as he continues to grow his personal and business brand online through our marketing efforts.
YouTube Channel Growth and Authority Building
Although our client already had a YouTube channel, it was producing very little in the way of results. After taking over the channel's publishing, we developed a plan for fixes and optimization. The result has been that we've drastically increased subscribers, skyrocketed view counts, and reached monetization.
How did we do it?
YouTube Fixes and Optimization
Improve Thumbnails
We updated the thumbnail style for our client's two main types of videos: testimonials and answer videos. The first two thumbnails at the top left in the image below are our new versions.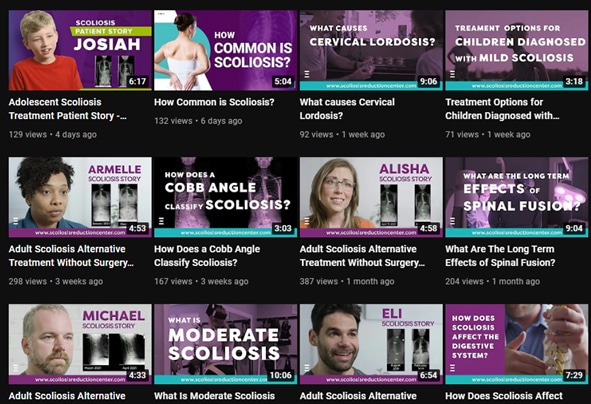 Although you may think the changes are subtle, the results are not.
In January of 2022, we began selectively updating the thumbnails for previous videos and creating a bank of data proving the new versions routinely outperform the old ones.
Here's a sneak peek at just two screenshots showing what happened after we updated the thumbnail:
Video: What Is Mild Scoliosis?

Video: What is The Main Cause of Scoliosis?

You can see an immediate increase in the standard daily view count for these videos with no other changes but the thumbnails. After seeing this massive jump for a few videos, we went ahead and updated all of the thumbnails for their other educational videos on YouTube.
Leverage Chapters
YouTube introduced the ability to sort videos into chapters to help organize videos and give them more information about the parts of a video. We began doing this for the videos we published after we took over the YouTube account.
Update Descriptions
The previous descriptions were basic and short. We created fully fleshed-out descriptions for each video, explaining the video in detail. This helps naturally get more keywords and related content into the metadata for the videos, thereby increasing search volume.
Add Calls to Action
We added multiple calls to action to most of the videos: one going to a blog post related to the video content and one directing viewers to the Scoliosis Reduction Center contact form. This helped meet people where they were at (whether they wanted more info or they were ready to get started with treatment).
As we began to get traffic to the blog from YouTube, we wanted to see what kind of videos drove actual contact form messages. To do this, we added tracking to the video links and watched to see which type converted to potential patients the best.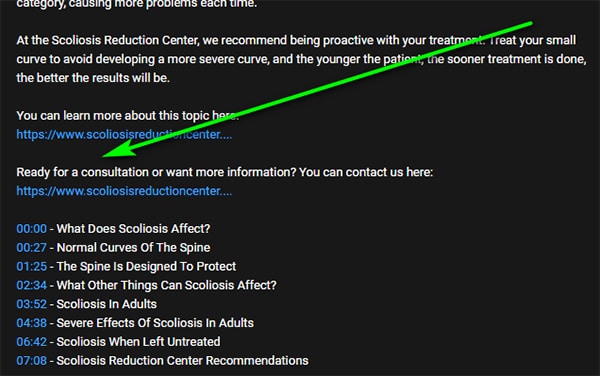 Increase Content Velocity for YouTube
Due to COVID issues, our video pipeline slowed. We were publishing twice per week for a long time, but had to reduce it to once per week. For the first 2-3 months, we actually saw growth, but then there was a pretty big dip in views a month after that.
We worked hard to get the pipeline and queue healthy again by publishing twice a week. Within a month, we had our best month yet.
Increasing Content Velocity and sticking to a schedule is essential for giving Google and YouTube consistent content to rank. Plus, it puts more "coals in the fire" or "fishing lines in the sea," so to speak.
First, you have more opportunities to rank. Second, when someone finds you and likes your content, they will have a lot more of your content to consume.
The Results
We're seeing record numbers with YouTube growth. For example, in June 2022, we saw 30% more new subscribers than in any previous best month. The channel also hit 5000 YouTube subscribers in early July. It took only 44 days to go from 4000 to 5000 subscribers, whereas the previous best length to gain 1000 subscribers was 58 days.
Now that the channel is monetized, it's also earning a steady little income that will only grow as the channel grows.

Facebook Advertising
Besides promoting key pieces of scoliosis-related content to generate leads, campaigns were created for both scoliosis consultation offers and general chiropractic offers. Since the practice caters to English and Spanish-speaking target audiences, ads were crafted to reach both demographics.
Finally, to build brand awareness and optimize targeting for campaigns, we ran a targeted 'Likes' campaign for Scoliosis Reduction Center's Facebook Page. Throughout the project, a trusted CRM platform allowed for detailed lead tracking across entire funnels, ensuring prospects were timeously contacted and effectively nurtured whether through email, phone, text, or voicedrops.
The Results
On the paid advertising front, English Facebook Ad campaigns have generated 2,617 leads, while Spanish campaigns have resulted in 1,960 signups to date. The two free guides attracted 3,592 leads combined, and the targeted 'Likes' campaign resulted in 1300+ new likes to their page.
Overall Impact
Look, the ranking and lead numbers are great. But they don't mean anything unless they translate to bona fide paying clients. After all, you can't pay the bills with blog readers and free guide signups.
So, what did all those awesome SEO, lead generation, and conversion efforts produce in terms of new patients?
Scoliosis Reduction Center saw a fantastic 159 new patients sign up for care, which created $2,162,744 in revenue. Celebration Family Chiropractic added 177 new patients to its fast-growing patient base, which produced $393,600 in revenue.
This doesn't even include referrals generated from web, YouTube, and Facebook leads who told others about the care they received from Dr. Tony Nalda.
Pretty cool, right?
What does Dr. Nalda have to say about all this?
"Having an optimal website has created exponential growth on our leads, which are turning into patients we could have never reached ourselves. The most recent addition of YouTube has made us a very definitive authority, giving us the ability to share our stories and reach people all over the world to get the care they did not know was otherwise available. We are now at a place in our practice that we are renovating to make more space to accommodate our growth!"
- Dr. Tony Nalda
Here are some of the pictures from the renovations they are doing to accommodate the patient volume growth they've seen in the past couple of years:

Today, both Scoliosis Reduction Center and Celebration Family Chiropractic have a solid online presence, and Dr. Nalda has become a prominent figure in conservative scoliosis treatment. Their stats are up across the board, with the practice generating qualified leads consistently and predictably.
Is your business ready for proven marketing that ignites growth and revenue? Let's talk to assess your needs. Simply book a free strategy session.