Are you aware that TikTok now enjoys more than 100 million monthly active users in the U.S. alone? If you're a Gen Z social media enthusiast, marketer, or influencer, you're probably among the millions leveraging the new app. But one thing is certain: creating a new TikTok account and gaining a massive following to establish your brand has never been easy, and that has seen many people prefer used accounts.  So, can you buy TikTok accounts?
The answer is a simple yes! You can buy new, aged or used TikTok accounts with your preferred specifications from marketplaces of choice like Fameswap. When done right by confirming the account and seller authenticity, you'll be happy to boost your brand awareness, engagements, and conversions.
Ready to know how and where to buy TikTok accounts and why people are embracing the move? This article has you at heart.  More so, we let you know the safety, cost, legal position of buying and selling these accounts, and everything in between.
Let's explore!
Should You Buy TikTok Accounts?

Should you buy a TikTok account? Maybe, maybe not! It all depends on your intentions, the effort you plan to put across to get known, where you plan to start, and how you want people to view your brand.
Imagine logging into your TikTok account with less than 50 followers only to realize that most users in your feed have thousands and millions of active followers. Well, you'll feel like you're in the wrong place. But that's what it is.
In such an instance, three things come in handy; buying TikTok followers, growing your TikTok account organically, or buying a used TikTok account. Focusing on organic growth is everyone's best option and TikTok most preferred. But the reality is it's not as easy as it sounds. It will require strategies and quite a long time to get good traction. Buying followers' works pretty well when giving your account a boost.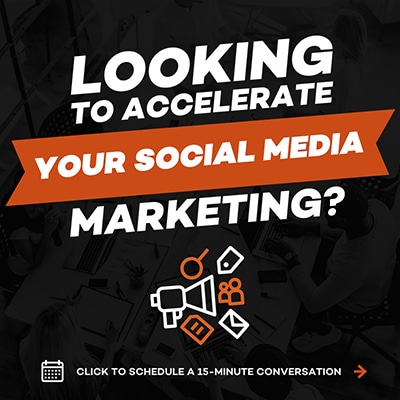 However, in a competitive digital era where delayed exposure and growth means giving your competitor a chance to outshine you, buying TikTok accounts is no longer a debate. In fact, it's now a norm for businesses and social media enthusiasts looking forward to being TikTok influencers, become famous, and make some bucks from TikTok.
And by the way, you still can buy an account that has grown organically from the marketplace. So, what do you gain the moment you buy a new, aged, or used TikTok account?
Let us explain.
Buying TikTok Accounts to Boost Perception
What do you think makes the most followed TikTok influencers the preferred choice by brands to showcase a product? The answer is straightforward – they have learned the act of bonding with their audience to boost their brand perception. From this, people trust what they have to offer.
In TikTok, perception sells. That's why people prefer to watch a video posted by a user with thousands of followers and likes than videos posted by someone with very few followers. An account with good standing makes it easy to capture attention and bond with the audience.
Buying TikTok Accounts to Appear Authentic and Popular
That is what social media is all about; not everybody is a celebrity, and the majority have to build a name from scratch. Buying an account is a stepping stone, considering you'll have to do more after that. Once people see you as authentic and popular, familiarity comes in, and they'll prefer your content—a perfect example of the mere-exposure effect principle coined by the late Robert Zajonc.

Buying TikTok Accounts for TikTok Marketing
If you're into social media marketing, you already know the power of leveraging massive platforms that host your audience. TikTok is one of those social media platforms. With more than 1 billion active users and over 2.6 billion app downloads, it's the next big thing and growing each day.
Why stay behind the curve when you can give it a try?
TikTok marketing gets your business known and brings clients to your inbox. Maybe you are wondering how a platform with so many dancing videos is relevant to your business. It's simple. Create your brand message in a precise and interesting video format and enjoy the conversions from your followers.
The stats don't lie. Or do they? Here are the proving statistics on TikTok that greatly influence marketing.
Where Can You Buy TikTok Accounts?
Now that you have the answer to "can you buy TikTok accounts," the next immediate thought is where and how to buy TikTok accounts. This is a question everybody has been asking. We have some awesome news for you. Once you're decided, buying a TikTok account is super simple! It's a click away!
The best place to buy and sell TikTok accounts of different specifications is Fameswap. It offers middlemen service allowing you to buy accounts with a significant following at reasonable prices. Many others like Famebolt are coming up and doing pretty good. But being the pioneer, Fameswap just keeps getting better.
Why Choose Fameswap?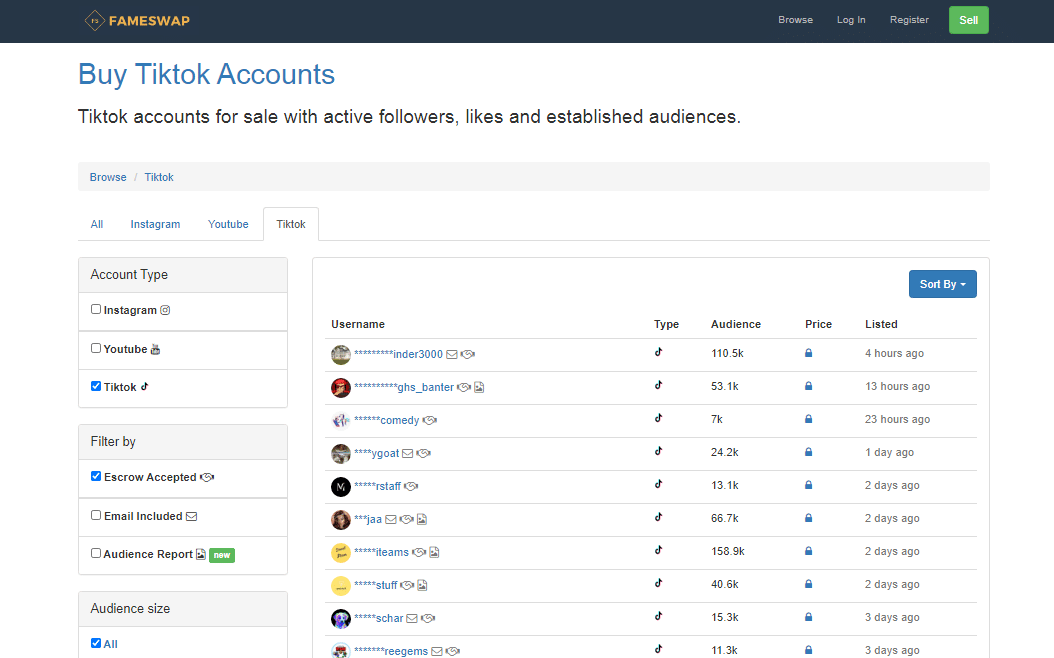 Source: Fameswap
From the marketplace, you can filter what you want based on the account type, niche or categories, whether they have an email account or if you consider accepting Escrow. Some of these categories include Outdoor & Travel, Cars & Bikes, Fashion & Style, Humor & Memes, and much more. You can't miss a category that complements your brand's niche.
One thing that has made Fameswap popular is the incorporation of Escrow. At a time when Americans are losing over $100 billion annually on internet fraud, Escrow assures protection on expensive accounts, especially from people trying to scam your hard-earned money.
Unlike many marketplaces, Fameswap lists real and authentic TikTok accounts with some already verified. But this comes with a competitive price that may be high based on your budget—the only downside so far.
In a nutshell, here are the Fameswap pros:
Multiple positive reviews
Categories that make it easy to settle on the niche you want
Trusted by many people
Accounts with an established audience
Affordable account prices
Maximum protection with Escrow
How Much Do TikTok Accounts Cost?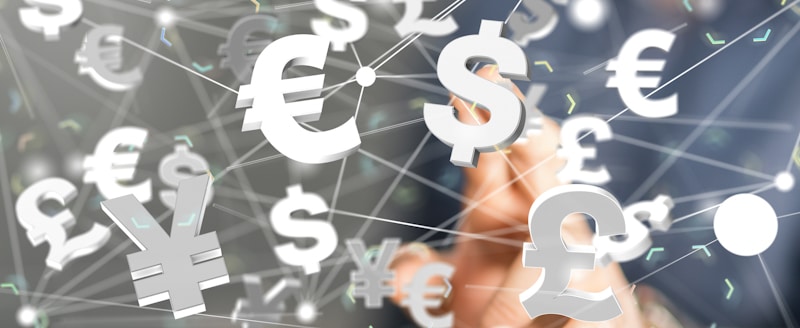 When you decide to own a TikTok account and commence your search journey on various marketplaces, you'll realize that the price varies. The price in Fameswap, eBay, Facebook marketplace, and so many other middlemen places will defer. And it is for a reason.
Accounts with massive followers and likes tend to be a bit pricey. For new accounts, you only need a few bucks, and you're good to go. Authentic, verified accounts with a huge following on a competitive niche will also cost you a significant amount.
But with this variation is also a good thing. You'll have room to research different options and weigh the cost based on what you intend to spend.
Is It Safe to Buy TikTok Accounts?
With all the hype on buying TikTok accounts, are you safe? Is it process legal?
You might have heard about TikTok accounts being shadow-banned. It's happening even at this second as you read this! It's the worst-case scenario for anyone who has just bought an expensive account and put in several hours to ensure it grows exponentially. A complete buzzkill!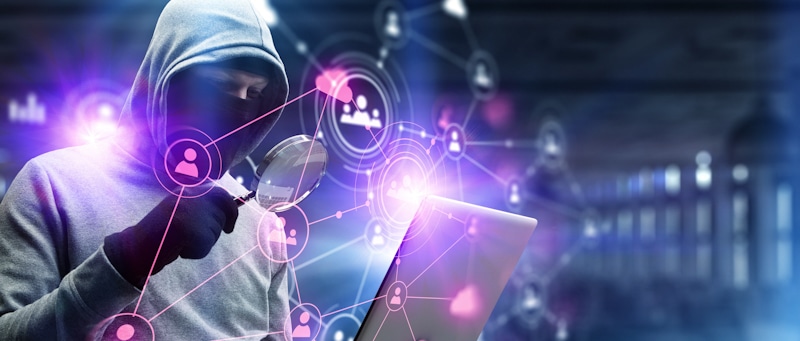 Remember that suspensions and closure don't happen to bought accounts only; any account, even those you create yourself from scratch, are at risk. It all depends on the activities you get involved in. If you don't adhere to TikTok legal community guidelines and terms of service, especially on limits and restrictions, you'll be in for a big surprise.
Besides changing the login credentials on your acquired niche account, we recommend that you do a background search for accounts you purchase and make sure the account of choice has following that complement engagement. Many followers and zero engagement is a no go zone. Spammy accounts will have your account banned.
Buying TikTok Accounts Is Not Enough! Maximize TikTok Marketing Best Practices
Forget the rumors you've heard previously about Tiktok going down. That's what they are, rumors. TikTok is here with us to stay, and you're missing a lot if you're not part of this big video app with a magical fan base.
If you anticipate running a big brand or becoming a successful TikTok influencer, you already know what to do. Buying Tiktok accounts from an authentic marketplace can be a game-changer. People engage you based on your account standings; those followers and likes count a lot.
Can you buy TikTok accounts? Yes, but most important, maximize TikTok marketing best practices. Remain active, post consistently, leverage TikTok tools and keep delivering quality content for more engagements.