The Entire Series:
[This Post] Local SEO Guide: How to Rank on the First Page of Search Engines
Ever looked up a search term relevant to your local business only to discover your site is nowhere to be seen in Google's search results?
Not on page #1, not on page #5, and (more embarrassingly) not on page #10.
Don't sweat it. I'm about to help you fix that.
Unsurprisingly, poor search rankings are a common problem for many business owners. And with approximately 380+ new websites being launched every minute, the race to the top spot is tighter than ever before.
So how do you make it to the coveted #1 position?
Local SEO.
In the second post of our inbound marketing series for local businesses, I explained how to create optimized blog content that ranks well, woos readers, and generates leads. While I dove into keyword research as one of three effective ways to uncover high-value blog topics, as well as clarified where to place keywords for optimal ranking results, this post will help you put some massive power behind your efforts using a variety of local SEO tactics.
What is local SEO and why is it so important for your business?
According to BrightLocal's latest consumer research, 97% of consumers searched online for local businesses in 2017. A study by eConsltancy reveals that 94% of the links users click on are organic while 68% of all organic clicks fall within the top three search results.
Think about that for a minute.
If your business doesn't show up on the first page of results, it practically doesn't exist to the majority of consumers.
Searcher intent is a critical aspect of search engine optimization (SEO), which means you must identify what your customers are looking for as it relates to your business and optimize your website and other online assets with relevant search terms to ensure they rank well. The process of 'optimizing' strengthens your visibility and online presence so that you can attract more business from local searches. Implementing an SEO campaign allows your business to appear on the first page of search engine results, making your site relevant and accessible to people searching from a nearby location.
For example, if you search 'chiropractor in Atlanta,' Google will show you the following results: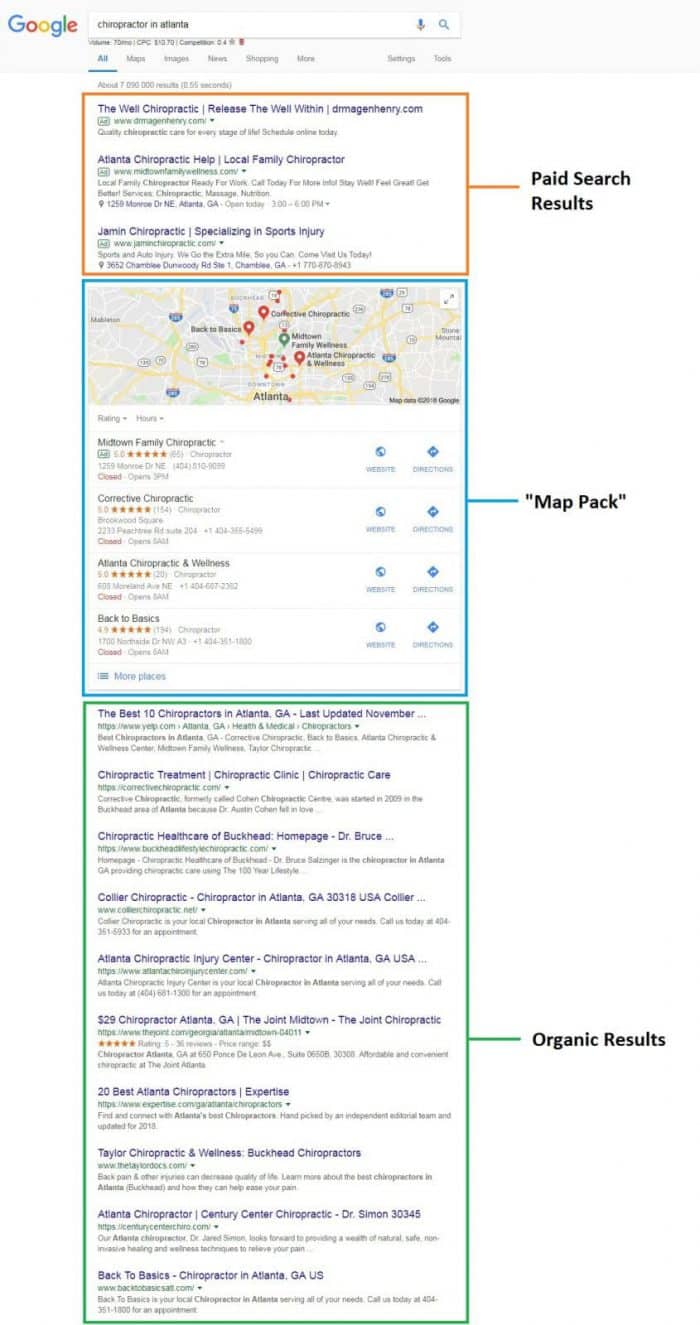 Notice how page 1 results are split into paid results, what's commonly referred to as Google's "Map Pack," and organic results? For the purposes of this post, I'll explain how to get ranked within the Map Pack and organic results. If you want to see how we can help you on the paid side of things, contact me for a free 15-minute strategy session.
For now, simply search for common keywords users would use to look up a business like yours, such as what you do followed by your location or what you do followed by 'near me.' Do you rank? If not, consider how much traffic you could be losing by not having a well-optimized website and online presence.
But what influences local SEO rankings?
Local SEO Ranking Factors
Search engine optimization is a complex beast, but as a local business owner you'll specifically want to focus on the following key areas:
Google My Business signals
Local NAP citations
On-page SEO
Structured data markup
Link signals
Reviews
So, how do you optimize these areas for a solid local SEO strategy? Let's start from the top.
Google My Business (GMB)
According to Moz's local rankings research, Google My Business (formerly known as Google Places) is a top ranking factor for appearing in both organic results and in Google's Map Pack, making it all the more important to claim and optimize your listing. Fortunately, this tool is free and super easy to use when generating exposure and creating an online presence across all of Google.
When optimizing your listing, you'll want to focus on three core areas:
Relevance: accuracy and completeness
Distance: closeness to searcher
Prominence: images, reviews, citations, links, etc.
Before you get started, read through the guidelines for properly representing your business on Google and then follow these steps:
Step 1: Navigate your way to Google My Business homepage and then click the green 'Start Now' button in the top right corner. You'll need to sign in with your email address.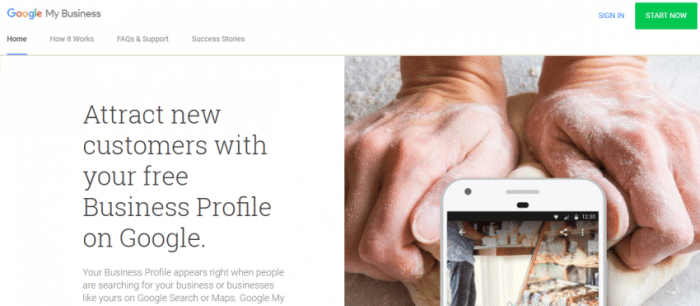 Step 2: Enter the name of your business as it's used in the real world or select your business from the listing suggestions. As you type, you'll see options appear in a dropdown menu. Once you have the right business name, click 'Next.' Don't try to stuff keywords in here as it goes against Google's guidelines.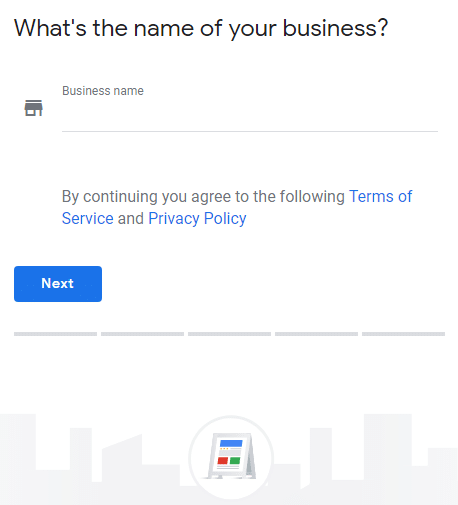 Note: If a listing has already been verified and you're authorized to manage it, you can request ownership by following Google's instructions here.
Step 3: Enter the precise street address of your brick-and-mortar business (P.O. Boxes are not acceptable). This should be consistent with address information you've provided on your website and across other online properties. If you visit or deliver to local customers, you'll notice there's a check box for that option. By checking the box, you identify as a service-area business and can choose to hide your address if you don't have physical premises customers visit. Once you've filled out the fields, click 'Next.'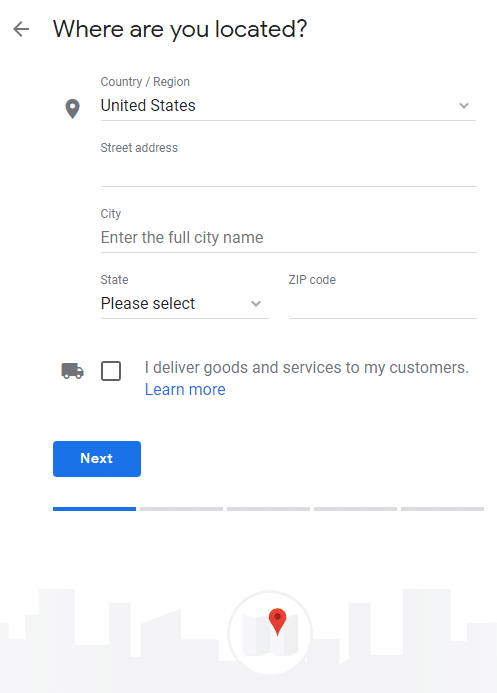 Step 4: Select a suitable category for your business. This should be based on your business as a whole rather than individual products or services you offer. Google will suggest categories as you type, but you can always check how your competitors list themselves if you're unsure. Be as specific as possible. When you've chosen an appropriate category, click 'Next.'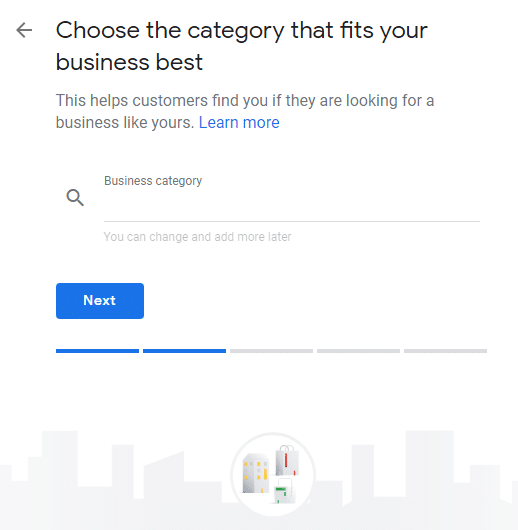 Step 5: Enter your phone number and website URL before clicking 'Next.' Again, this should be consistent with contact details you've provided across other online assets such as social media accounts.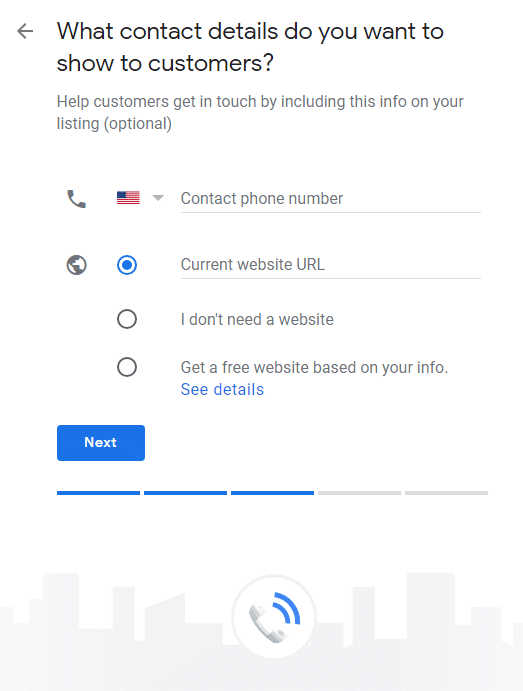 Note: You'll notice that Google offers the opportunity to create a simple but free mobile-optimized website using the details from your GMB listing. While it's always best to build a fully functional site on your own domain, this can be a great solution for small business owners who don't have a website yet.
Step 6: Before you complete your sign-up so that your listing can go live, you'll need to verify your connection to the business. Google wants to know that it's legitimate and that you're the best person to manage the listing's content. Depending on the type of business you're listing, verification is usually done via phone, email, postcard, or Google Search Console. Click 'Finish' in order to verify your brand new GMB listing.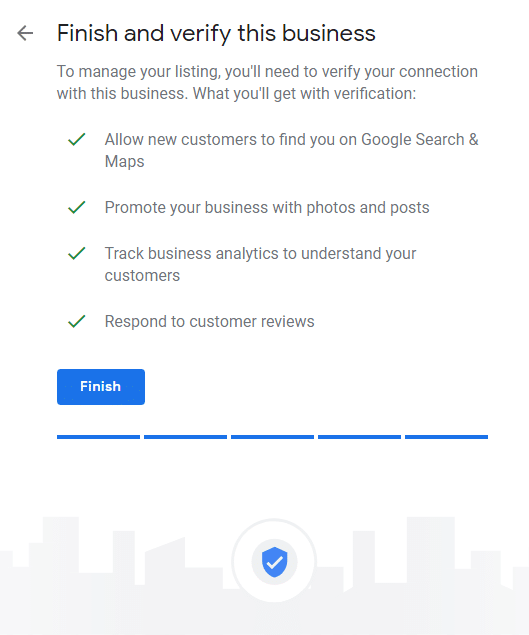 But hold on a second: what happens if you're an individual practitioner such as a doctor, dentist, chiropractor, lawyer, estate agent, insurance agent, or financial planner who is one of many at a single location?
In this case, you'll want to create a listing for the organization separate from that of each public-facing practitioner. Each practitioner should then create a listing using their credentials and name as the listing title (e.g. Dr. Tom Jones).
After your business profile goes live, you'll discover there are multiple things you can do to further enhance your listing to attract attention and gain in Google rankings.
Tips for Further Optimization
Tip #1: Add up to 9 additional categories to your listing. While Google will only publish your primary category publicly, you can include additional category options that are relevant to your business. For example, you might list 'doctor' as your primary category but also want to include 'family practice physician.' Based on your business category, you might also find category-specific features are available to you. This could include the ability to add a booking button, list amenities, include a menu of services, and more. If your business is done via paid appointment, definitely add the booking button as it can help you stand out and gives potential customers a clear call to action.
Tip #2: Set your business hours. Besides establishing regular business hours, you can set business hour breaks, 24 hour business hours, and special hours for days when you have an irregular schedule like special events and holidays.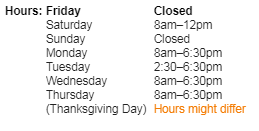 Tip #3: Add up to 2 additional landline or mobile numbers so that customers have multiple ways to reach you.
Tip #4: Use the right links and create tracking codes. While your main business link should direct visitors to your homepage, there's a chance you'll have additional linking options depending on your business category. This could include links for reservations, appointments, and online orders. Make sure these links direct traffic to a dedicated landing page when applicable. In addition, you should consider creating UTM tracking codes for these URLs so that you can monitor the effectiveness of your listing for driving traffic to your website.
Tip #5: Add relevant attributes and amenities. This could include things like wheelchair accessibility, Wi-Fi, bathroom facilities, and more.
Tip #6: Upload visually-appealing images and videos that capture attention. Think of GMB like you would any other social media profile. You want to show off your business logo, cover photo, office space, storefront, employees, and anything else that represents your business. How about a virtual tour, welcome video, customer testimonial, or quick competitor comparison? Visuals can help humanize your brand and give your customers an authentic behind-the-scenes look at what you and your business are all about. Be sure to follow Google's guidelines for file size, video length (it's 30 seconds maximum right now), and other specifications.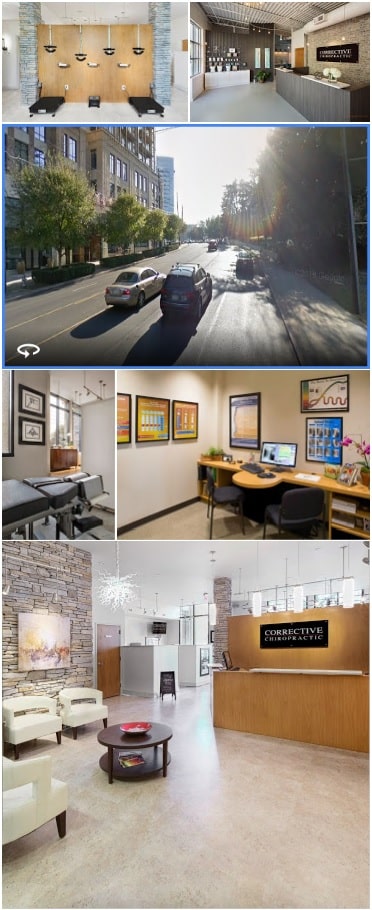 Notice how Corrective Care has a good mix of practice pictures, as well as a 360° view of the street outside their premises.
Tip #7: Add a brief but compelling business description. Writing about what you offer, what differentiates you from competitors, your history, and anything else that might interest your target audience is a good place to start. Again, Google has strict guidelines, so be sure to follow them.
Tip #8: Encourage customers to leave reviews. I'll cover this more in depth later since reviews are a major ranking factor in local SEO, but for now you'll want to make sure you're mentioning your new GMB profile to customers and letting them know you'd appreciate their feedback.
Tip #9: Google loves engagement, so use the Google Posts feature to engage with searchers on Maps and in search engine results pages. You can create captivating content, make announcements, promote offers and specials, provide product updates, share images, and more.
Tip #10: Let customers chat with you directly through GMB's Messaging feature. If you have staff who can manage this type of interaction, it can be a great way to engage directly with people who are looking for information about your business.
Tip #11: Monitor questions coming in through the Questions & Answers feature. Many business owners leave questions unanswered, which can look like you don't care. In addition, anyone can answer questions—sometimes incorrectly. Make sure you're the one speaking for your business.
It's crucial to note that by not claiming and optimizing your GMB listing, you not only run the risk of missing out on first page exposure but you also leave your business listing vulnerable for someone else to take ownership. That's right; any Google user can create a listing for any local business, which is why it's so important to take control of your business information and verify your listing as soon as possible. It'll also protect you when people submit incorrect information when using the 'Suggest an Edit' function on the listing since you can revert to your own info.
What about other search engines?
Although Google holds majority market share, claiming your business listing from tools like Bing Places for Business and Apple Maps can help maximize your traffic sources and earn you more customers. Simply follow their instructions to claim and optimize your listing. Make sure you use the same information you used for your GMB profile and that all listings are 100% complete or as complete as possible.
Ultimately, a well-optimized listing will send the right signals to Google, ensuring your business shows up in Map Pack results and stands out to searchers.
Local NAP citations
The next thing you'll want to do is build local NAP citations.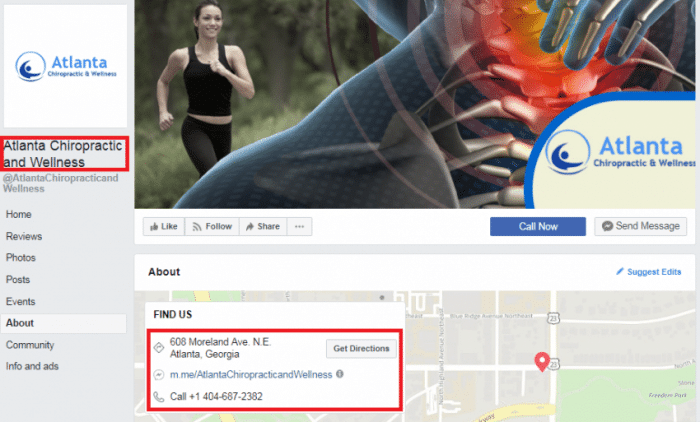 NAP stands for Name, Address, and Phone number, and sometimes includes your website URL. They appear as references or mentions on other websites and web pages but don't necessarily include a link to your site. A common example of this would be listings found in online directories.
The reason citations are so important is because Google uses them as a signal for your business's online authority, effectively placing you higher in search engine results—including organic results and the Map Pack. Therefore a website with more citations is likely to have better visibility than a website with fewer citations.
The other factor to consider here is that people don't only use Google to search. They use sites and apps like Facebook, Yelp, and Foursquare to look for the products and services they need. Being listed on any of these sites increases your chances of driving customers to your business and boosting your revenue.
Before we dive into building NAP citations, it's important to note that inconsistencies in your citation data will kill its effectiveness and affect your rankings. Outdated data or too many NAP variations make it hard for customers to find the correct information, which means that Google will not find your data trustworthy. As a result, you can expect your site to be demoted in search rankings.
To avoid this common problem, you'll want to start your optimization of local NAP citations with step 1.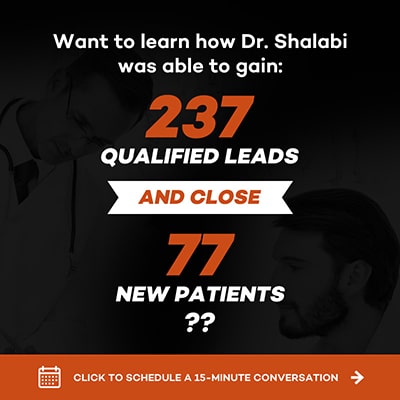 Step 1: Conduct a NAP audit to make sure citations are accurate, complete, and consistent.
Many business owners will forget to update citations after a move or change in phone number. Sometimes, you'll find citations only include partial information such as a business name and address but no phone number.
How do you perform an audit?
Manually: Although this method is a little more tedious, you might catch citations that data aggregators don't. Check out Moz's excellent post on conducting an advanced local citation audit and clean-up if you decide to go this route.
Moz Local: It's free and easy to use. Simply enter your business name and zip code before hitting the 'Check My Listing' button. Moz will pull indexed listings from across the web to reveal inconsistencies, duplications, and incomplete info. Although it has a lot going for it, you might find this tool limited.
The HOTH: For $49, Hoth Local will manually scour the Internet and provide you with an extensive citation audit.
With a quick online search, you'll find plenty of other free and paid options. The key is to uncover existing citations that could be negatively affecting your rankings and then make sure you update them to display the correct information. In some cases, you might have to contact site owner and request a change to the citation.
Step 2: Create more relevant citations.
It's time to identify possible opportunities for new citations and strengthen your geo-local search presence. Although you might be able to think of a few directories and social media platforms you're not currently listed on, you'll also want to use tools like Whitespark's Location Citation Finder. It's a freemium tool so you won't get a complete list of results, but you will get plenty of top suggestions. You can also check out Whitespark's list of top 50 citation sources in the U.S.
Other sources of citation sites include Omincore's ultimate list of 200+ local SEO citation sources and BrightLocal's top local citation sites by business category. You can also search for competitor citations to see where similar local businesses are listed. For each new citation you create, double check that your business name, address, and phone number are consistent throughout so that it sends a clear signal to Google that you're not confusing or misleading Internet users.
Quick-fire tips for creating citations:
Where applicable (and in line with site guidelines), include keywords related to your business and location. (E.g. in description fields.)
Add logos, images, and videos when allowed.
Make sure all uploaded image and video file names and descriptions include geo-specific keywords.
Include accurate primary and sub-category identifiers.
When you can add links, use UTM tracking codes as you did with your Google My Business listing.
On-Page SEO
In my previous post about optimizing blog content, I devoted a section to strategically placing keywords in your page title, permalink, sub-heads, anchor text, meta description, image alt text, image descriptions, and content body. I highly recommend going through that post as it's a good place to start for on-page SEO. In this post, we'll take a look at your site as a whole and delve into additional best practices.
Step 1: Just as you would optimize your blog post, optimize your homepage around your primary location by incorporating geo-specific keywords into your page title, content, image tags, etc. You should also include NAP information and your business hours, embed a Google Map, add relevant schema mark-up (more on this later), and include reviews.
Take a look at New York Dental Office's homepage for a minute: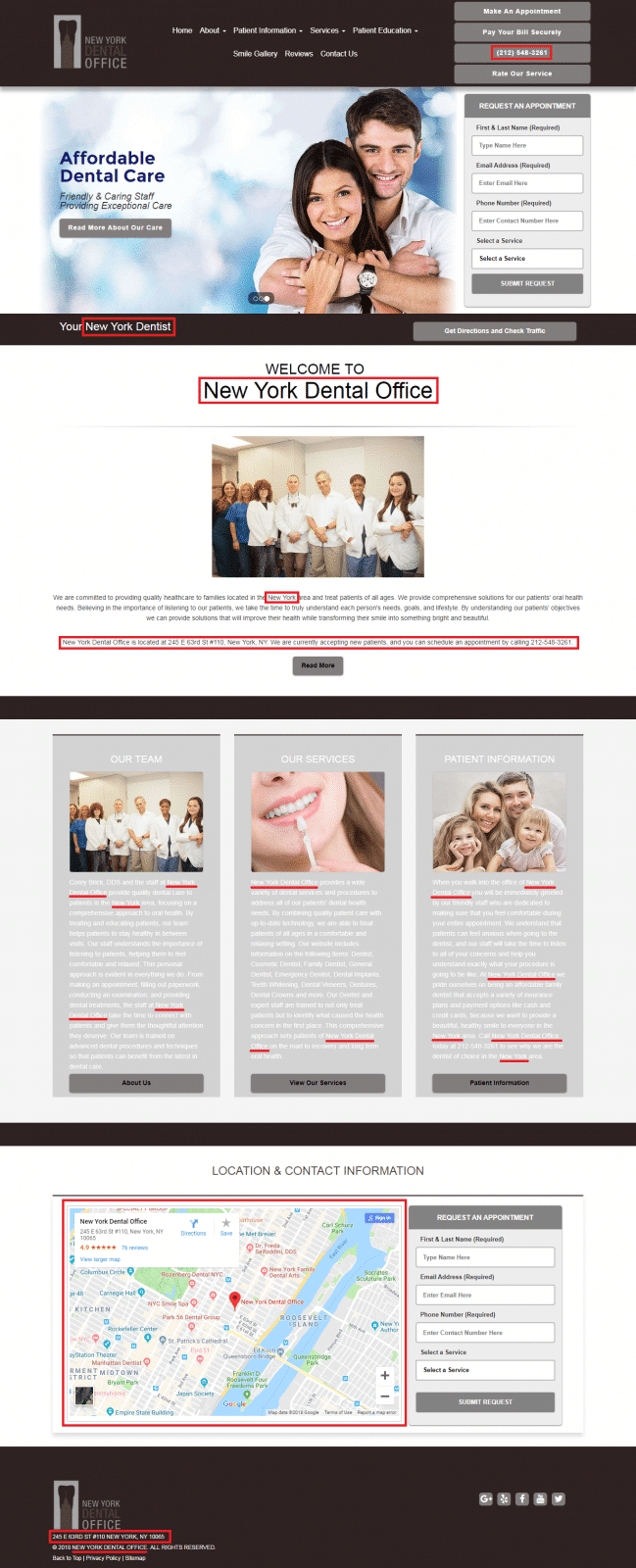 The results of their local on-page SEO efforts?
They've dominated the Map Pack and organic search results.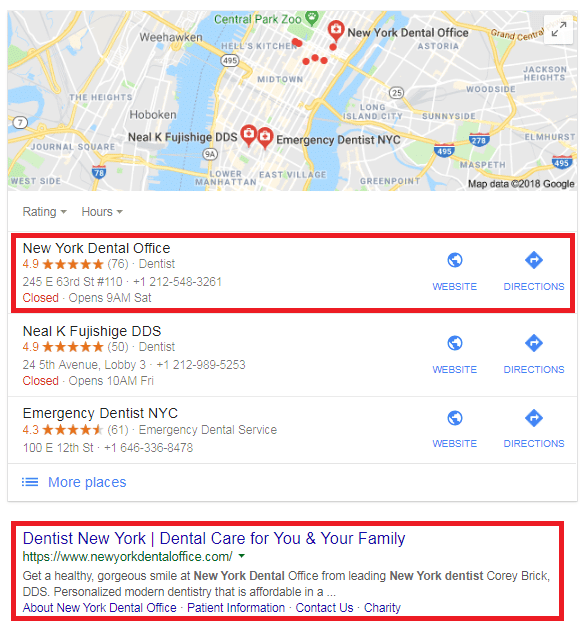 Step 2: If your business has multiple locations, ensure your website structure is set up to rank local landing pages. For example, let's say you have locations in Chicago, Seattle, and Boston. You'll then create and optimize landing pages on your website as follows:
com/Chicago
com/Seattle
com/Boston
Notice how Corrective Chiropractic structures their site and optimizes their homepage to deal with multiple locations:

Starting in the header, they have clickable links that lead to optimized location-specific landing pages. They also include links to those pages in the menu bar, further down the page, and in the footer.
What does the page URL look like?

Additional on-page SEO tips:
Make sure your business name and primary keyword is in your title tag and that the title is no longer than 50-60 characters in length.
Double check that each title tag and permalink is relevant to the specific page content.
Use your meta description as a mini advert to promote what your business is about and how it benefits prospective customers. Don't forget to include keywords and a call to action.
Resize and compress images before uploading them as they can affect page load times, which in turn reduce your rankings.
To maximize results, use different keywords when entering data into your image alt text and description fields.
Structured data markup
Also known as "schema markup," structured data markup refers to HTML code you add to your website in order to provide search engines with more information about your business, products and services, prices, reviews, and more. Search engines can find and index content, but they don't understand how the content relates to other things. Schema markup fixes that. And while it won't make your site rank better, it does improve the way results for your website appear in result pages—increasing other ranking factors like click-through rates.
Implementing structured data markup might sound scary, but you don't have to be a technical wizard to do it. Simply follow these steps:
Step 1: Navigate your way to Google's Structured Data Markup Helper and check the "Local Businesses" option. Insert one of your page's URLs into the relevant field and click "Start Tagging."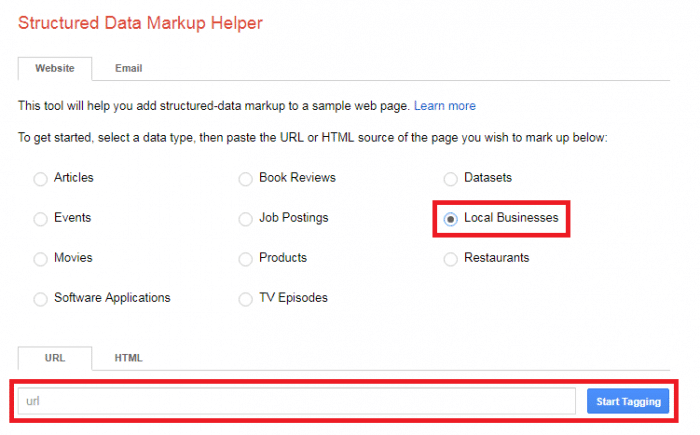 Step 2: Once the page has loaded into the visual editor, highlight a piece of information like your business's phone number and then allocate the correct tag from the menu that appears.
Using Corrective Chiropractic's local landing page from the previous example, this is what you'll see: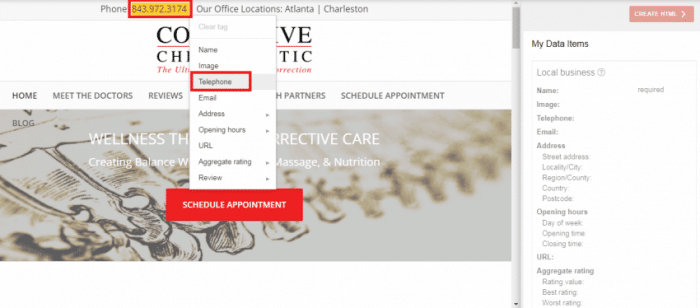 Once you tag the info, it'll populate the relevant fields on the right. Like this: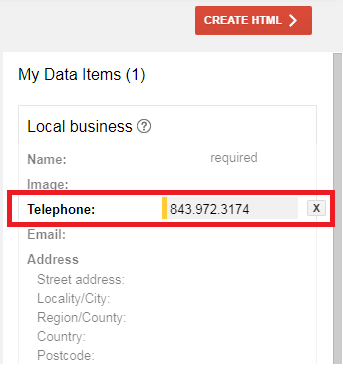 Continue to highlight and tag pieces of information until you're satisfied you've included all you can.
Step 3: Click "Create HTML" and then select the JSON-LD format. You'll see a piece of code that looks similar to this:
Step 4: Copy and paste the code into the <head> section of your website's page. If you're concerned there might be errors with the code, you can use Google's Structured Data Testing Tool to iron out any problems.

That's it! You've now created structured data markup for your website and help search engines like Google understand your business a little more.
Link signals
Backlinks from other high-quality, relevant websites are hugely important for any kind of business, but they're particularly important for local business owners looking to rank in organic results. While it's true you've already built a multitude of links with NAP citations, the likelihood is that many of them will be no-follow, meaning you won't benefit from additional domain authority, credibility, and that precious ranking boost.
Building quality backlinks as part of a solid backlinking strategy takes time, but it can have lasting effects on your rankings for years to come. So, how do you build backlinks for your local business?
Fortunately, I've already shown you how to create optimized blog post content that's chock-full of valuable information for your target audience. This makes it much more likely that people will share your content and link to it, but there are many other proven tactics you can employ to amplify your efforts.
Tactic #1: Look for guest blogging opportunities.
Besides creating both author box and contextual backlinks, guest blogging is a great way to generate exposure for your business. The difference between general link building and local link building is specificity. In other words, you should be targeting more local resources in addition to broader opportunities. Searching for terms like "location" + "guest post," "location" + "write for us," and "location" + "write for me" will often uncover websites looking for content you can provide. You could even make searches based on your industry, using terms like "lawyer" + "guest post"
Take a look at the result of my "Ohio" + "write for us" search: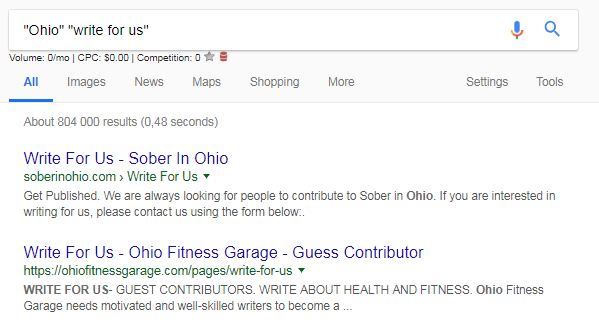 If you work in the medical, health and wellness, or fitness industries, the top two results could be backlink gold. In addition, you could write more location-specific content, focusing the topic on the city in which your business is located.
Tactic #2: Get involved in sponsorships and partnerships.
Whether you partner with or sponsor a local sports team, community event, school, or charity, the benefit in it is four-fold:
Local exposure
Goodwill building
Backlinks on the websites of the entities you're sponsoring
Social media links and mentions
It's a no-brainer.
Tactic #3: Create and promote a useful local resource.
Content like free guides doesn't only attract plenty of backlinks, it also creates an opportunity for you to capture local leads. Local resources pages are also popular and you gain brownie points if you can link the content to your business. For example, a gym owner might create a local resource page focusing on the best local places to find healthy meals
Tactic #4: Build relationships with local influencers.
Networking and building genuine relationships with local influencers such as bloggers can pay off big-time. Many of these people regularly produce content—content with backlinks, so it never hurts to position yourself as an authority and potential resource. When appropriate, you can also ask for content swaps and reviews.
Tactic #5: Submit your business for relevant awards and contests.
Could you nominate your local business for an award? Many media companies, business associations, chambers of commerce, and similar entities hold yearly competitions and awards for things like business excellence. By simply submitting your business, you could find yourself linked on a nominee page, top 10 list, or online property that's highly visible.
Tactic #6: Get listed in local directories.
Hopefully you've caught local directories when building NAP citations, but you might want to check just in case.
Tactic #7: Host local events and meetups.
Guess where people will be linking to when they want to share your upcoming get-together? You guessed it!
Tip #8: Become a how-to and Q&A wizard.
Sites like Quora, StackExchange, and wikiHow drive massive traffic volumes thanks to the fact that many people search using questions in lieu of generic keywords. As a result, you can leverage these resources to benefit from their traffic.
Besides ranking well in organic search results and being highly optimized, the pages receive frequent updates and user engagement levels are great. Many of these sites allow no-follow links in your profile, but people tend to click anyway when content is valuable—they want more.
The trick is to search for high quality, location-specific questions with little response. Questions should be highly visible within search engines and ones you can answer with valuable feedback. In addition to writing a response directly on the page, consider creating a how-to article or blog post and then dropping the link in your response. It won't take long before the magic happens.
Note: It might seem like a lot of work, but these pages are usually ones that people prefer referencing. They can also help you diversify your backlink profile, making your local SEO campaign appear more natural.
Tip #9: Create a college scholarship program.
When done correctly, scholarship programs can help you build authoritative links on well-trafficked and reputable .edu domains. Check out this example by The Levin Firm—a law firm serving four locations: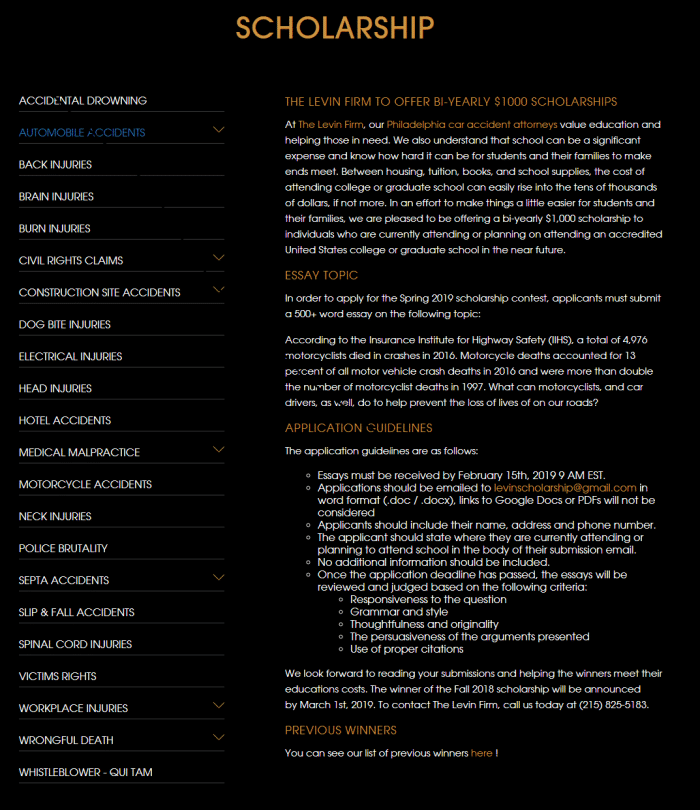 Offering a scholarship on an annual basis will help keep your links alive, and it can be a great investment in both your SEO and reputation.
Reviews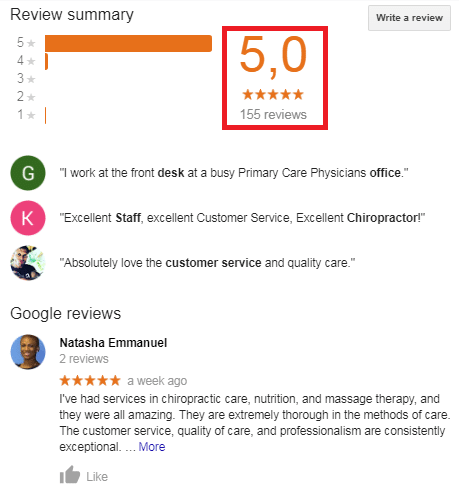 There's a reason Corrective Chiropractic appears in both the Map Pack and organic results. Look at those positive reviews and the impressive volume!
Customer reviews matter to your credibility and reputation—something Google takes note of and uses in weighing your rank. Unfortunately, there's a lack of active pursuit when it comes to reviews. Many business owners forget, or they believe that leaving things to happen organically is sufficient.
With reviews being a crucial ranking factor, it's not.
So, how do you gain more customer feedback?
Create profiles on relevant review sites like Yelp. You've likely claimed many of them when building your NAP citations, but double check to make sure you're not missing any.
Ask. Yep, it's really that simple.
Offer an ethical incentive. You might need to get creative here, but sometimes people need a little inducement to make them make the effort. A giveaway to a random reviewer is bound to do it. Whatever you do, don't buy reviews or tell people what to say in their reviews.
Make leaving an online review as simple and easy as possible. Whether you send a link in a follow-up email, provide an easy step-by-step process, or even provide a template that'll make writing the review quick and convenient, you should aim to simplify reviewing.
Give people as many opportunities to review as possible. Check in with them at relevant touchpoints or set up review widgets on your website
Thank reviewers. Giving a shout out to people on social media or simply leaving a response to a review makes people feel special and others take notice.
Ultimately, you don't just want reviews for the trust they build with potential consumers. You want reviews for the signals they send to Google's ranking algorithm. If you don't already have a clear strategy for ramping up the volume of reviews, you should start figuring one out now. In the coming weeks, I'll cover this topic in more depth.
Conclusion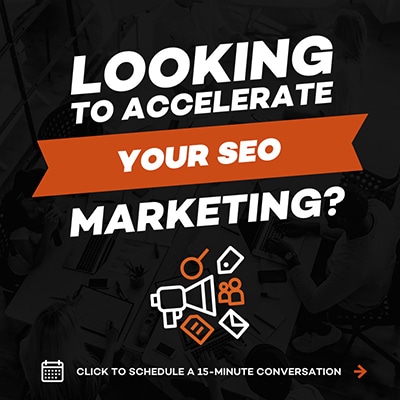 Perhaps the end of this post is where we get to the truth of the matter: Google has 200+ ranking factors that we know of—some proven, some not so much. From bounce rates, slow load times, and mobile usability to domain age, social media signals, and things that'll make your head spin, it's no wonder there are people who are paid to know this stuff.
We've covered just a fraction in this post—but it's all local SEO. Whether you implement these tactics on your own or you hire someone to do it, they're guaranteed to produce some ranking juice. And next time you do a search using keywords you're targeting, you might be pleasantly surprised to find you're no longer on page 10.
In my next post, I'll be covering social media and how it relates to inbound marketing for small and local businesses. In the meantime, tell me what you've found to be the most fascinating or frustrating thing about local SEO. What are you doing right? What are you doing wrong? Jump into the conversation by leaving a comment below.
Read more from the series...
[This Post] Local SEO Guide: How to Rank on the First Page of Search Engines