The Entire Series:
Inbound marketing and social media are like peanut butter and jelly.
Separately, they evoke a collective 'meh.'
Blended together in well-balanced perfection, they produce an explosion of goodness that's simply moreish.
Now the chances are that your local business has some kind of social presence (who doesn't have a Facebook account these days?), but have you optimized your business profiles for inbound opportunities?
Not sure?
In this fourth post of our inbound marketing series for small and local businesses, we'll dive into social media as part of your inbound strategy and explain how to maximize opportunities for traffic, leads, engagement, and greater returns.
Let's first look at…
Why Social Media is So Important to Your Inbound Marketing Efforts
While I could wax lyrical about the colossal size of some social media platforms and their ability to create high-quality, hyper-targeted audiences for paid ads alone, I want to focus specifically on how social media drives fantastic inbound benefits for businesses. In fact, HubSpot reported in 2012 that social media has a 100% higher lead-to-close rate than outbound marketing.
According to Social Media Examiner's latest Social Media Marketing Industry Report, 78% of marketers say they've seen an increase in traffic, 64% have generated leads, and 53% have improved sales. Many others indicated that their social media efforts have increased exposure, developed loyal fans, provided marketplace insight, and more.
But how exactly does social media tie into inbound marketing?
1. Social media facilitates content promotion.
Attracting new and repeat visitors to your website through captivating and valuable content is essential to an effective inbound strategy. Social media plays its role by not only providing an outside channel to share your content through both paid and unpaid methods, but it also allows others to spread your content and message. The result is that you extend your reach, increase brand awareness, drive referral traffic to your website, build trust, and establish yourself as an authority and influencer.
2. Social media boosts SEO.
Besides allowing you to create NAP citations (as discussed in my local SEO guide), you're able to optimize your profile for local search and use social media to build relationships with influencers, bloggers, and advocates who will share your content with their own communities and help build backlinks. This kind of SEO juice boosts the rankings of both your social profile and your business website.
3. Social media helps generate appealing content ideas.
There's no magic bullet for creating viral content, but the trick to creating engaging, clickable content lies in understanding what your audience wants. By monitoring conversations and interacting with your social media followers, you'll be better positioned to uncover relevant topics and key trends that matter to the people who matter to your bottom line.
Ultimately, social media is a friend to inbound marketing—the PB to your J. You'll create benefits for your business organically by simply setting up social media profiles and publishing content to your feeds.
BUT it's also crucial to get intentional about social media as part of your inbound marketing strategy. I recommend starting with a three-pronged approach to optimization: 1) optimize for local search, 2) optimize for lead generation, and 3) optimize for engagement.
So let's get to it!
Optimizing for Local Search
Did you know that 72% of consumers who did a local search visited a store within 5 miles?
There's a common myth that social media is useless for local SEO and doesn't help you get found on Google. But contrary to this misguided belief, social profiles are quickly finding their way into top search results, claiming prime positioning and visibility. This means you're not just trying to outrank competitor websites. You're also attempting to outrank their social network profiles. It certainly gives one a new appreciation for showing up in local searches.
It's important to note that while social media isn't a direct ranking factor, it can amplify the ranking factors Google does use in its algorithm. For example, links shared on platforms like Facebook and Twitter are used as a ranking signal. More sharing and higher click-through rates equals greater visibility for your content.
Another aspect to consider is that people use social search features to find the things they need and love. Optimizing your profile for local search will help drive inbound traffic to your website, effectively increasing the potential for generating leads and sales.
If you're not sure how to take advantage of local search optimization opportunities, here are a few easy tips to get you started.
1. Claim the Right Kind of Account, Profile, or Page
Although it wasn't the initial intention, social media platforms have evolved into havens of promotion for business owners and marketers alike. As a result, most platforms have adapted to include business-oriented features and tools that allow brands to interact with their target consumers and build communities online. Yet some entrepreneurs still use their personal profiles to promote their businesses, which is usually a big no-no and can result in account shutdowns.
In addition, the type of account or profile you choose affects which features are available to you, how your information is indexed, and whether your business shows in search results. To make sure you're using social media for your business correctly, categorize the type of account or profile you're using the right way. Every platform will differ, so check out your options before tinkering with your current social assets.
If you're starting a new Business Page on Facebook, select "Business or brand" from the menu when creating a new Page.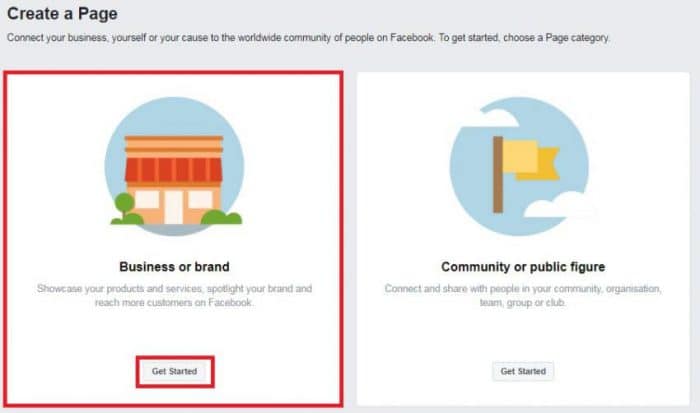 If, for whatever reason, you've been mistakenly using a Profile to promote your business, follow Facebook's instructions for Profile to Business Page migration. For Business Pages that are categorized incorrectly, you can add additional categories within the 'About' section of the Page.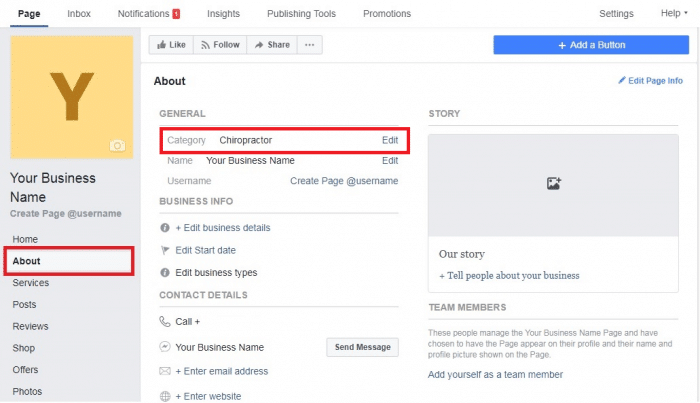 On Instagram, you'll need to convert your profile into a business account. Simply tap the gear icon

on your iPhone or the three dots icon

on your Android phone and then scroll down to "Switch to Business Profile." Tap it to follow the prompts and connect to your Facebook Page. If you're not already logged into your Facebook Profile, you'll be asked to do so as part of the process.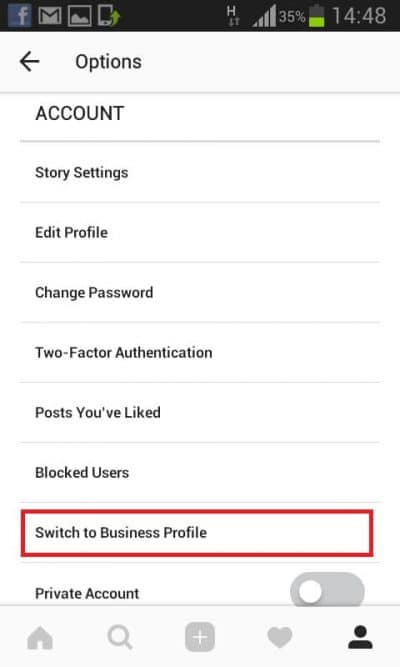 For Pinterest, simply select 'Create a business account' during setup and choose 'Local Business' from the list of available types.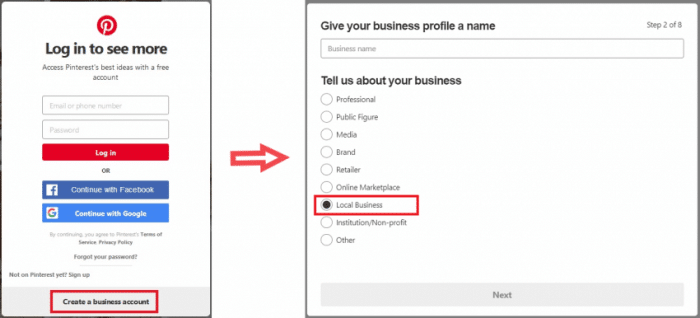 If you have an existing account, you can follow Pinterest's instructions for converting a personal profile into a business account.
On LinkedIn, you'll need to click 'Work' and then select 'Create a Company Page' from the menu. You can then choose to set up a small business profile from the list of options.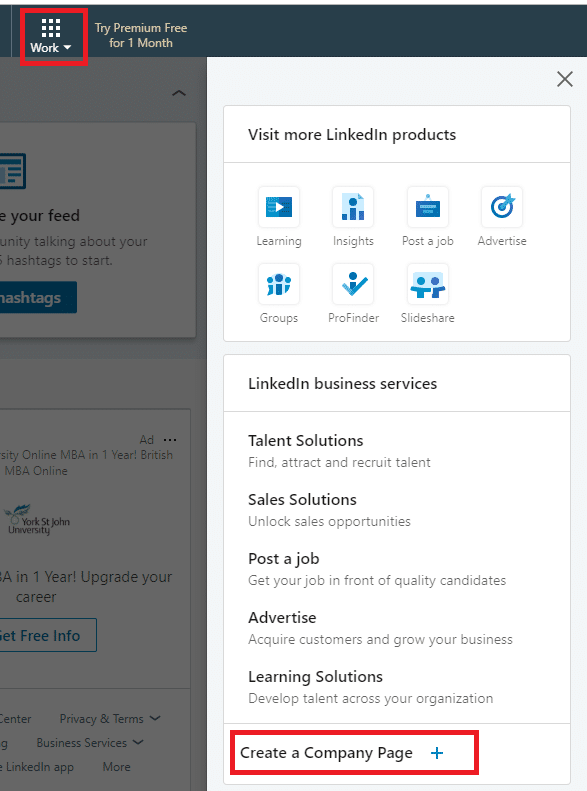 On platforms like Twitter and Youtube where there's only one type of account option, you can customize general account features for business purposes unless otherwise stated. You should also claim your business listing on apps like Foursquare since there's a chance a customer may have already created a listing by checking in to the location on the app.
It's crucial to ensure your selection of social media profiles makes the most sense for your local business and that they're platforms your typical buyer frequents.
2. Add Relevant Categories
Some platforms give you the option to add additional categories or subcategories to your profile. Each new category you select is a new opportunity to get your business profile indexed for local search. You should choose categories that are relevant to the services and products you provide. For example, you might select 'lawyer and law firm' as your primary category from Facebook's available list but later add 'personal injury lawyer' to create specificity and accuracy.
3. Create Keyword-Rich (Not Stuffed) Profiles
A good 'Bio' or 'About' section is descriptive, engaging, and includes terms and phrases your target audience would typically search for on both Google and social search engines. You'll likely be restricted by a character limit, so think strategically about what you want to include.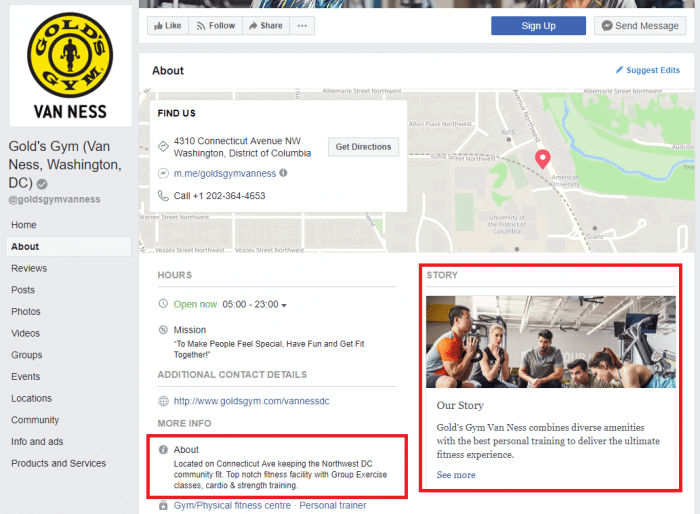 Some sites might provide additional chances to add content like a mission statement, company overview, or story. Don't ignore these sections, but rather use them as an opportunity to add helpful and relevant information—even if it doesn't boost your visibility.
4. Complete ALL Profile Information and Add Links
You've likely heard it from others and now you're going to hear it from me: fill in all your social profile details.
Not only does a 50% complete profile suggest to visitors that you're only 50% in at all levels (including service delivery), but it could also cost you easy wins when it comes to local search. It also frustrates users when they can't find information like business hours. Don't waste any opportunity to tell people about your business, especially when competition is so fierce and organic reach is now at a tear-inducing stage of hopelessness.
5. Make Sure Your NAP Information is Consistent Across All Platforms
I wrote about this in my SEO guide, but it's so important, I'm mentioning it again. Make certain that your business name, address (street, city, state, and zip), phone number, and website URL are the same across all social assets. If anything changes, update these details ASAP.
Don't forget that location information will help put you in 'near me' or 'nearby' social search results, such as this example from Facebook: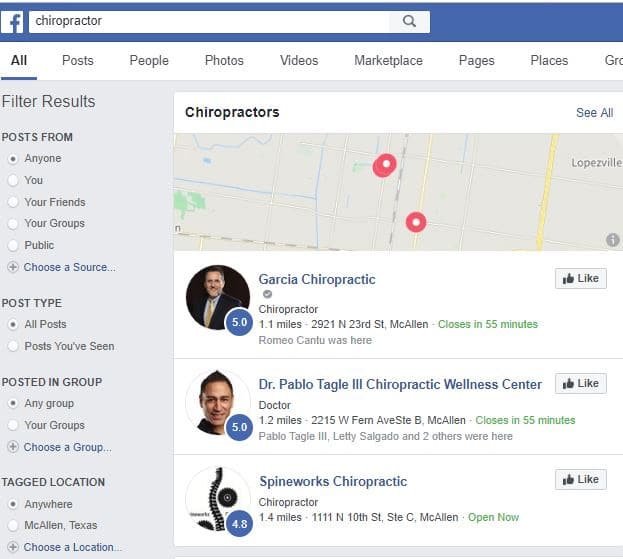 6. Claim Your Vanity URL/Username
While some sites will automatically create a neat profile URL with your business name in it (e.g. pinterest.com/yourbusinessname), others will produce a clunky-looking hot mess of letters and numbers. When it's the latter case, you can usually upgrade to a custom username or vanity URL.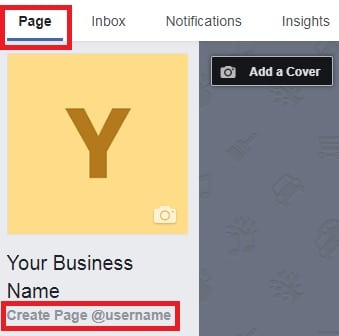 Besides making it easier for people to remember and share, a vanity URL is great for SEO purposes, enhancing brand identity, strengthening brand recognition, and using on marketing collateral or product packaging. If your preferred username is already taken, add your location or play around with relevant keywords until you find something that works.
Here are some helpful pages on username or URL claims and changes from top social sites:
Quick tip for Facebook: If you're just starting your Business Page, the chances are Facebook will tell you that you're ineligible to create a custom username. You can solve this problem by adding your mobile number to your personal profile and then verifying it. You should then be able to claim your preferred username from your Business Page.

Additional Tips for Local Search
Make sure your name and username reflect your business in cases where the social media account name and unique username are different—as is the case with Twitter.
Use hashtags when appropriate to make your content searchable on sites like Twitter and Instagram.
Strategically populate your post text with keywords but don't overdo it. Content should be conversational and engaging.
Add keywords to Youtube video titles.
Incorporate keywords into your Pinterest board titles and pin descriptions.
When allowed, link to other social networks so that people have a chance to engage with you on their preferred platform.
Double check that links are clickable and live. There's nothing worse than landing on a 404 error page when you're looking for information.
Use the geo-tagging feature (identified by the location icon) when posting photos or status updates. Most sites have this option when creating a post, including Facebook, Instagram, and Twitter. Fun fact: location-tagged posts on Instagram generate around 79% more engagement.
Ensure all business pages and profiles are publicly viewable. Google will not index private or unpublished pages and content.
Before we move on, be sure to keep an eye on site updates. Facebook, for example, changes and adds features as often as Mark Zuckerberg banks an advertising dollar. Check your profiles at least once a quarter to maintain your business data and relevancy.
Optimizing for Lead Generation
Whether you're blogging until your fingers bleed, SEOing the heck out of your website, or getting your social media game on like a Kardashian, none of it matters without a lead generation strategy in place. So, you search online for tips on how to generate leads through social media.
What kind of advice do you find?
"Build your following."
"Establish thought leadership."
"Use social media listening tools."
Don't get me wrong. These are fantastic tips—things you should be doing. But what happens when someone lands on your Facebook Business Page or Twitter feed because their friend shared your brilliant blog post on financial planning, or cardio workouts, or flipping houses?
How do you move someone from a 3rd-party asset you don't even own to an email list you have complete control over?
Simple: you need a lead magnet and a call to action (CTA).
For local businesses, lead magnets can be anything from free guides, consultations, local events, and newsletters to contests, quizzes, vouchers, and free samples. Anything that would attract your ideal target audience in exchange for their name and email address is gold.
How do you optimize your social accounts with your offer and CTA?
If you haven't yet read '10 Awesome Ways to Promote Your Lead Magnet on Facebook and Accelerate Your Local List Growth,' check it out because it's a solid start.
However, each platform differs in where you're able to promote your offer and place your call to action. Here are a few prime spots across all social media that will help you drive referral traffic to your dedicated lead capture page.
1. Header Images
Cover photos give you the greatest real estate and visibility. They're right at the top of your social pages and profiles, capturing attention and persuading people to stay and look around for a bit. This makes these header images an ideal place to promote your lead magnet and call to action.
Take a minute to evaluate this Twitter header by Darcy Schuller:

Since cover photos on Twitter and many other platforms are not clickable, be sure to include the offer, the call to action, and the URL for the lead capture page.
2. Image Descriptions
For cover photos that are clickable, like the one below by Tanya Plummer Fit, be sure to include a compelling description, CTA, and link for the signup page in the image description section.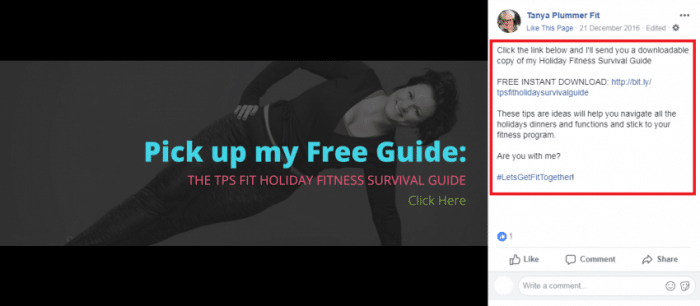 Notice how the image also contains a 'Click Here' CTA? This is a great way to make it clear how visitors to the page can access additional information.
If you're uploading images to your status updates, social media photo albums, or galleries, include descriptions for those, too. Even though image posts may have long disappeared into the depths of your feed, people can still easily access them when looking through your photos. They're also able to find them via social search.
Here's a great example of an image that shows up in a photo album by Jennifer Powter. She's included a visual CTA that looks like a button. When people click, they're greeted by a persuasive description of her offer and the link to get it.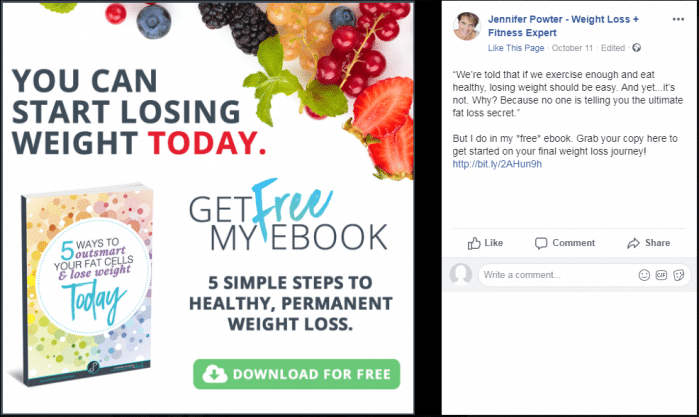 3. CTA Buttons
Speaking of CTA buttons, some platforms let you to add custom buttons to your pages and profiles. While all sites allow for direct messaging in some form or another, custom buttons can be linked to online booking apps, lead capture forms, and more. This makes it quick and easy for leads to take the next step directly from your profile or page.
Here's what a CTA button looks like on Sole Serenity Spa's Facebook Page.

And here's a great example by Sea Serene Beauty Clinic on Instagram.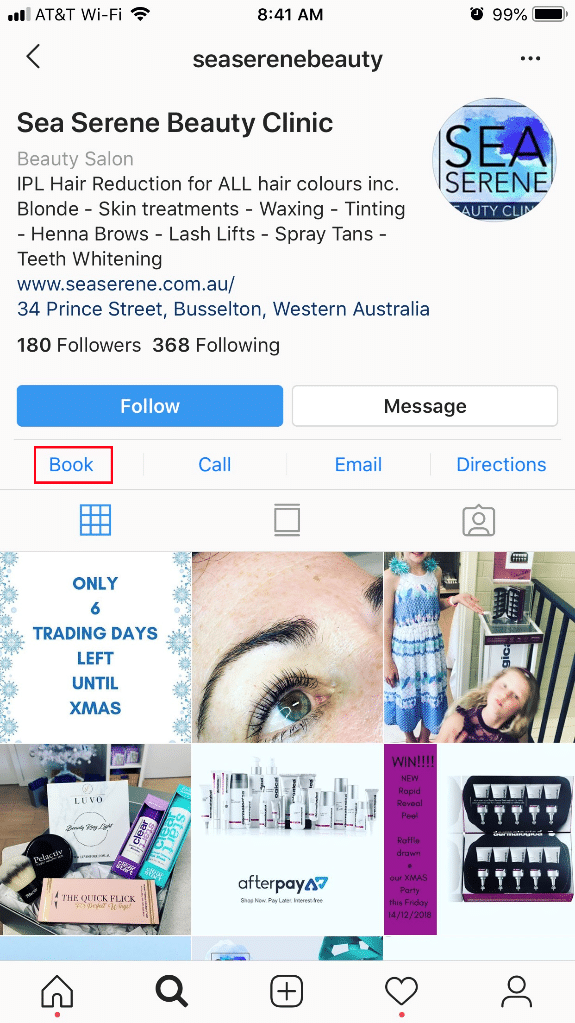 4. Pinned Lead Generation Posts
An inconspicuous little feature, the post pin is highly underrated and underused. Quite unfortunately, too, since it ensures your lead magnet promo remains prominently placed at the top of your feed for maximum visibility even as you publish other content.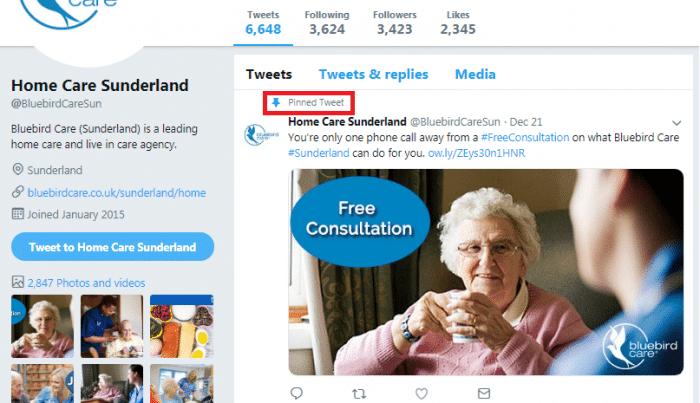 Pinning is currently available on Facebook, LinkedIn, and Twitter, so make sure you don't miss its benefits.
5. Bio/About Section Links
Another effective place to promote your offer on social media is in your 'Bio' copy. Although I mentioned earlier that you're often restricted by character counts, think about this: would you rather tell people more about yourself or capture a lead?
If you write strategically, you can do both.
Check out this Instagram post by Rise Chiropractic. Since Instagram post links aren't clickable, they've included a CTA that directs people to the link in their bio.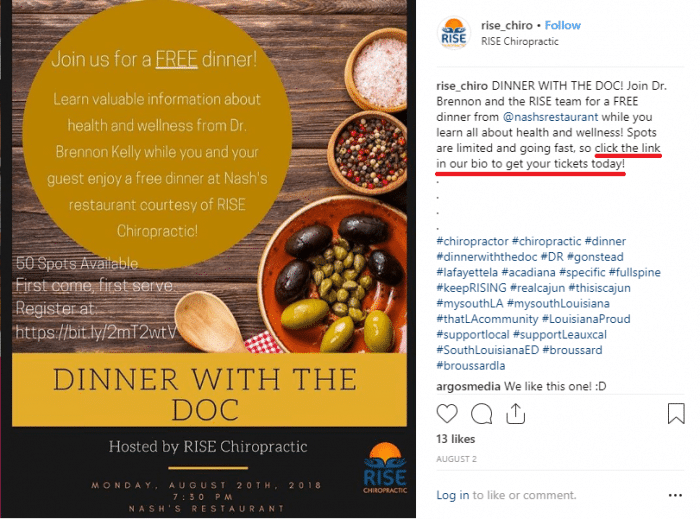 Now take a look at what their bio looks like:

It clearly states their mission, includes their location, and incorporates the clickable link. With a little more effort, they could use a URL shortner like Bitly to create more space for copy and include a few extra keywords relevant to their services. For now, it works.
6. Live Video CTAs and Links
Live video is an awesome way to grow an engaged audience, but what most local business owners don't know is that it's also great for lead generation purposes. Whether you create a live stream to show people around your office, answer questions, or talk about a relevant topic, take a moment to talk about your lead magnet and add a link to the comment section like Amy Porterfield did in her Facebook Live video.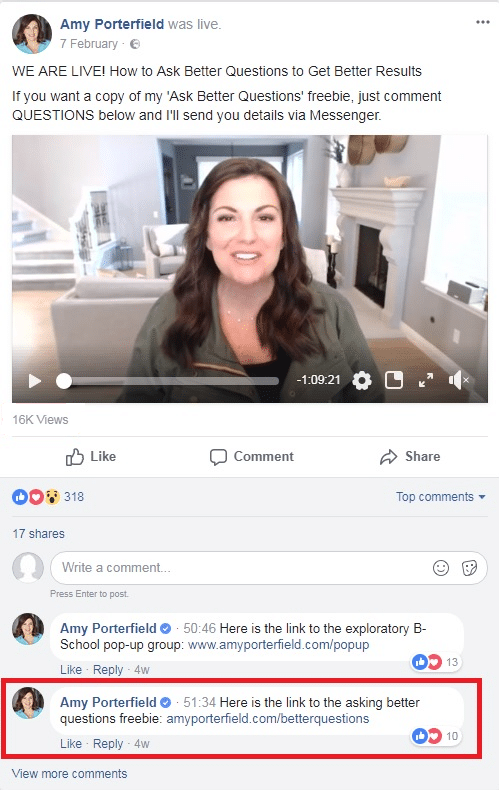 7. Custom Tabs
Like the pinning feature, Facebook's custom tabs aren't used as much for lead generation as they should be. However, they can provide a richer experience through additional content, special offers, contests, and more.
Here's a simple example from Flintridge Family Chiropractic's Facebook Page: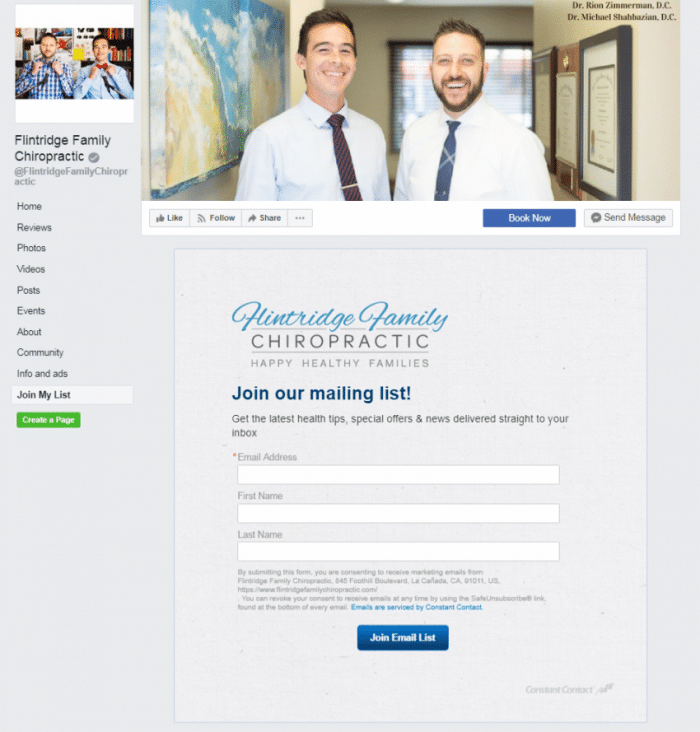 Consider getting a little more creative to make your custom tab stand out—starting with a fun tab name. Apps like ShortStack, Woobox, and Pagemodo make building beautiful tabs easy.
8. Albums, Galleries, or Boards
Curating your lead generation images in a single place like Swansea-based Life Gym did on a Pinterest board is an excellent way to keep your offers organized, easily accessible, and labelled correctly for search. If you have the opportunity to create a description as you do on Pinterest, use descriptive keywords that will get your content found.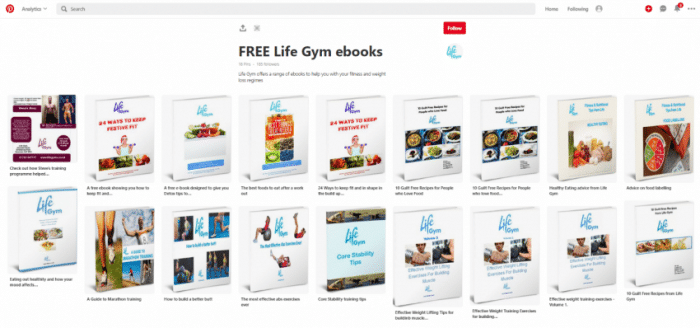 Additional Tips for Social Lead Generation
Don't underestimate the power of social media ads to generate leads. While the suggestions above will help you optimize your accounts for passive list growth, paid ads will actively accelerate it.
Encourage social sharing by embedding social sharing buttons into downloadable offers like free guides. That way anyone who finds your lead magnet through a different source like your website can easily help spread the word on social.
While social platforms will track certain engagement metrics and tell you about the demographics of your audience, most of them won't track links and conversions unless you're using paid ads. Fortunately, you can track this yourself by creating UTM tracking codes for the URLs you're promoting.
The key to turning your social media business profiles and pages into lead generating machines is to optimize them so that they work for you even as you sleep. Most business owners start their profiles with enthusiasm but soon realize the amount of work that goes into maintaining a social presence, so they abandon their efforts. Optimization can cut that workload significantly and continue to drive traffic and sales even when you're inactive for a while.
Optimizing for Engagement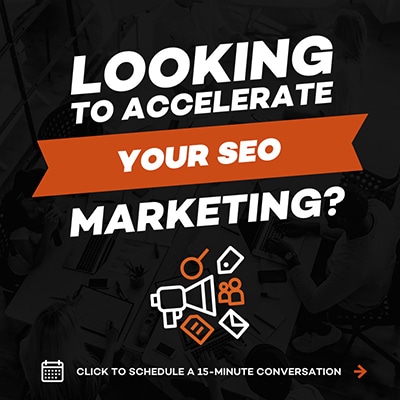 Successful inbound strategies revolve around valuable content and social media gives you a platform to share it. However, interacting with potential customers and humanizing your brand amplifies your inbound efforts and often brings the lead—and ultimately the sale—home.
So, it's time to mix the content factor with the YOU factor (just like a PB+J) to attract the right people to your social profiles and maximize engagement.
How do you get started?
1. Create a Social Media Content Calendar and Post Regularly
Posting frequency is essential to maintaining visibility in the social feeds of your followers and in search result pages. A social media planning calendar can help you map out the content you should be creating for each platform, as well as keep you on track with a consistent posting schedule.
What does that look like?
Let's say you're the owner of a CrossFit Box. For the second week of January, you want to focus on body composition as your topic or theme of choice—a subject that interests your audience. You now know you need to create content in varying forms (e.g. blog posts, videos, images, etc.) related to nutrition and workouts for fat loss and muscle burning. But hold on, you're also extending your business hours—something you need to let your followers know.
With this scenario in mind, here's what your calendar for the week might look like: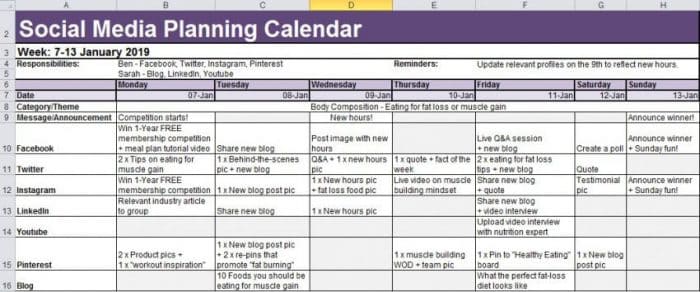 Now you might be looking at this CrossFit example and wondering about your industry. The calendar works perfectly for any niche, which is why we want you to download the Excel template for free.
FREE SOCIAL MEDIA PLANNING CALENDAR
Download Your Free Social Media Planning Calendar
A good social media calendar should be diverse in terms of the type of content you're posting to each platform and well balanced. As you can see in the CrossFit example, the calendar includes blog posts, quotes, images, a competition, behind-the-scenes pics, team photos, an expert interview, testimonials, Q&As, live and pre-recorded videos, tutorials, polls, tips, facts, and industry articles.
Try to plan as far in advance as possible so that you can organize content creation and outsource tasks you simply don't have time to complete. This is especially important when you're planning something like an expert interview for a Youtube or Facebook Live interview.
Quick Tip #1: If you want to know what topics and type of content do well in your industry and on social media, use Buzzsumo to do a quick search and unearth some gems.
Quick Tip #2: If you want to save time managing multiple accounts, consider using a social media scheduling tool like MeetEdgar, CoSchedule, or Sprout Social. Simply create and schedule your posts ahead of time and these tools will publish them to your accounts for you.
2. Create a Good Balance
You've probably heard it called many names: the 3-3-1 rule, the 5-3-2 rule, the 4-4-1 rule, the 70-20-10 rule.
It's all about the same thing: balance.
No one becomes a follower to see your self-promotion posts or to hear how awesome you think your business is. They want insightful, useful, and non-promotional content that educates them, helps them, and entertains them.
So let's quickly break down these rules:
The 3-3-1 Rule
3 Posts should be content you've created
3 Posts should be from other sources
1 Post should be promotional
The 5-3-2 Rule
5 Posts should be content from other sources
3 Posts should be content you've created
2 Posts should be content that humanizes your business
The 4-1-1 Rule
4 Posts should be content you've created
1 Post should be a repost (i.e. shared third-party content)
1 Post should be promotional
The 70-20-10 Rule
70% of posts should focus on adding value
20% of posts of posts should be content created by others
10% of posts should be promotional
Notice a pattern?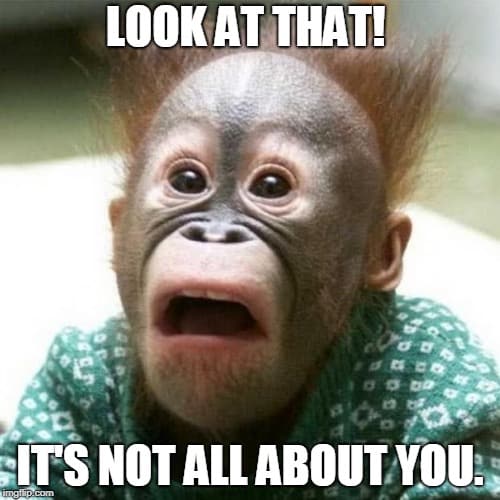 Quite often, you'll come across social accounts that only post promotional posts or content they've created. "Buy, buy, buy, buy, buy" is their chant.
Want to know the response?
It's usually "bye!"
There should always be a good balance between quality content you've created, quality content you've curated, and call-to-action posts.
When you make it all about others, they're going to be engaged and much more receptive to those times you make it about you.
3. Posting During Peak Times
Besides posting regularly, you should aim to post at the right time of day.
When is the right time?
Unfortunately, that's a loaded question since every industry is different and your target customers will likely be online at a different time to someone else's. The best way to determine your business's peak posting times is to monitor reach, views, and engagement metrics. Most sites will have these insights built into the platform, so you can easily keep track.
As a starting point, check out CoSchedule's blog on posting times. It includes stats from their own customer research, as well as data from 15 different studies published around the web. Try some of these recommendations to figure out what works for you.
4. Optimize Your Website for Social Sharing and Following
Plugins like ShareThis and AddThis make it super easy for website visitors to share your content and follow your social media accounts without leaving your site. Some plugins also include social proof features, allowing visitors to see how many times a post has been shared, how many comments or 'likes' it has received, and how many followers you have. You'll need to research various options until you find a tool with button styles that suit your site.
Be sure to embed the right buttons in the right place on your site. Here's an example from Nadel and Ciarlo, P.C. where the social follow buttons are placed in the header of the site and the social sharing buttons are at the bottom of each blog post preview.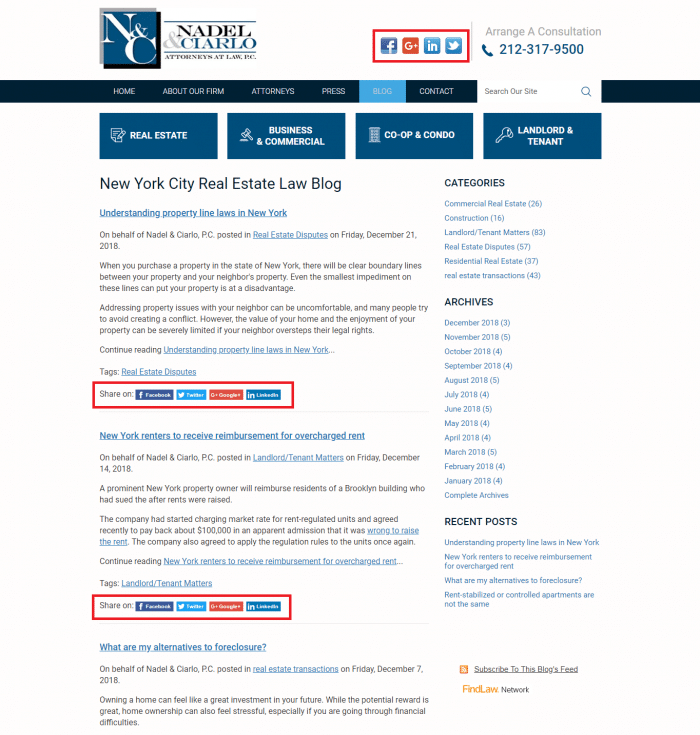 5. Participate in Conversations
It feels ridiculous to be suggesting this because it's right there in the name, but social media requires you to be social. Both humans and search engines recognize authority and influence, which makes engagement a priority. Start conversations, jump into existing ones, and gear up to build meaningful relationships with people in your local community.
6. Improve the Shareability of Posts
In 2011, The New York Times Customer Insight Group published a thought-provoking report on the motivations behind sharing. The study revealed that motivators include:
To bring valuable and entertaining content to others
To define ourselves to others
To grow and nourish our relationships
Self-fulfillment
To get the word out about causes or brands
Understanding this psychology is a vital aspect of content marketing because it directly affects your ability to expand your content's reach. Knowing the factors that influence sharing allows you to create the kind of content that resonates with people—the kind of content they want to pass on to others.
With that in mind, you should always create your content and social media updates with a focus on sharing. Here are some basic questions you should be asking yourself before you hit the publish button:
Is the content appealing to your target audience?
Have you crafted an irresistible headline?
Is the content useful?
Does it offer incredible value?
Is it in an easily digestible format?
Is it unique and creative?
Is it positive?
Does it trigger high-arousal emotions?
Is it thought-provoking?
Does it reinforce an opinion?
Does it elevate a person's mood?
Does it include eye-catching visuals?
Have you added hashtags?
Did you explicitly ask people to share?
Answering 'yes' to any of these questions strengthens your content's shareabiliy. While it's impossible to make every post spread like wildfire, use these questions as a way to benchmark a post's potential effectiveness.
Additional Tips for Boosting Engagement
Grow your following by inviting friends, family, email contacts, and anyone else you think might be interested to 'like' or 'follow' your profiles.
Like the pages and profiles of related local businesses (not your competitors) and comment on their content to gain more exposure for your business.
Add social links to your email signature.
Images and videos tend to get more traction than plain text posts, so include some kind of visual element to your social updates whenever possible.
Use targeting features when updating your status to narrow down who can see a particular post. This can be helpful when you specifically want to engage with local fans and followers instead of people who might be in a different state or live internationally.
Allocate a few minutes each day to respond to reviews, customer questions, comments, and direct messages. Besides needing to keep people satisfied, sites like Facebook include response times on your business page.
Use social media listening and monitoring tools like Hootsuite Insights, Socialbakers, or Mention to discover relevant conversations, local online groups you can join, and mentions of your products or services. Simply use keywords to search.
Get involved in community projects that matter to you. This type of activity helps spread goodwill to those in need while giving you an opportunity to generate fresh content and great PR. You'll be able to shape perceptions of your business while building awareness for a worthwhile project.

Conclusion
Confession time: when it comes to inbound marketing and social media, the tips and tactics included in this post are just the tip of a massive iceberg. The good news is that this post lays a good foundation for increasing referral traffic, leads, and revenue.
As you start to see results, it's essential to evaluate your social media and Google Analytics to identify the best traffic sources and types of content that deliver the highest number of page views. This kind of insight allows you to make informed decisions about moving forward to create the greatest ROI.
And remember, social media isn't just about creating a presence. You have to maintain it.
Have you been actively using social media for inbound marketing? What has been your greatest success? Share your stories and tips with us in the comment section below. If you have a question, be sure to drop us a line. And before you leave, please share this post on your favorite social media channel. We'll love you forever. 
Read more from the series...